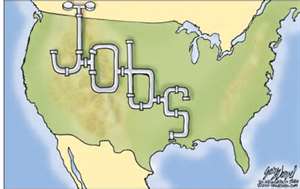 Lawmakers push bills to approve Keystone pipeline
WASHINGTON (Reuters) - Lawmakers in both chambers of Congress said Friday they are moving forward with bills introduced this week to pluck the power of approving the Keystone XL pipeline, which would run from Canada's oil sands to Texas, from the hands of the Obama administration.
Republican Rep. Lee Terry from Nebraska introduced a bipartisan bill on Friday to approve TransCanada Corp's 800,000 barrels per day Keystone XL pipeline. It is a companion bill to a bipartisan bill introduced on Thursday by Senators John Hoeven, a North Dakota Republican, and Max Baucus, a Montana Democrat.