Help save one of the Oldest Vietnam
Veteran Memorials in
America.
Erected in 1972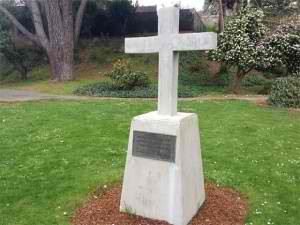 Memorial cross meeting draws emotional testimony from vets, critics

COOS BAY — The man who designed a contested war memorial says he got his idea from the federal government.
Landy Marshall served two tours in the Vietnam War. After he returned, he was among members of the Bay Area Jaycees who undertook construction of a Vietnam War memorial for Mingus Park.
"Where I got the idea was looking at TV and seeing all these bodies going to Arlington National Cemetery," Marshall said. "And I can guarantee that the people that died weren't all Christian."
Marshall was one of more than 100 people who crammed into a Coos Bay Public Library meeting room Tuesday night, for a special city council meeting about the 41-year-old memorial. Dozens more packed the lobby and sidewalk outside, hoping for a chance to speak.
The controversy began after the city received a February letter from the Wisconsin-based Freedom From Religion Foundation. The group contends the cross is unconstitutional and wants it removed immediately.