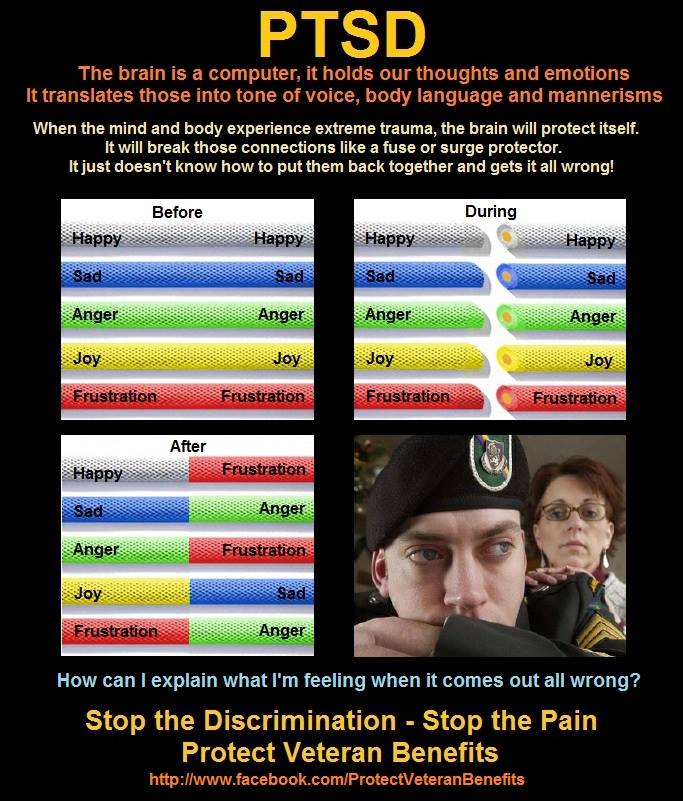 What feelings would be triggered for a PTSD veteran in this case of discrimination

Due to an increase of symptoms severity, the Department of Veterans Affairs (VA) upgraded the disability percentage for a decorated, combat Vietnam veteran from 70% to 100% disabled.
The disabled veteran hired a law firm to represent him in a Superior Court suit that had nothing to do with his disability. However, due to supplying background information, the veteran notified his law firm's attorneys of his PTSD disability. The client paid the agreed upon retainer fee for the firm to start their representation. The retainer check was promptly crashed by the law firm within the first three days after signing the contract.
Over three weeks into the contract, due to the gross negligence of the law firm, their PTSD disabled client was placed in court 'default', because they failed to simply notify Superior Court of their representation.
Confused, extremely worried, frustrated and angry about his law firm's negligence; over the next month, the client repeatedly tried by phone to get in touch with a concerned attorney from the firm, but no attorney returned his calls. A month into the contract with no attorney response, the client wrote a letter to the firm concerning their negligence, complete lack of professionalism and lack of communication. The client also highlighted the fact that their lack of actions were unnecessary exacerbating his PTSD disability.
Unbelievably, another month passed. Still no response from the law firm that he hired and still receiving letters from Superior Court about being in 'court default', the client wrote another desperate letter to his attorneys.
Not responding to their disabled client's phone calls, not responding to his first letter and now, not even responding to his second letter, sixty-nine days into the contract an attorney from the firm first notified Superior Court of their client's representation.
With this same notification to Superior Court, the law firm's attorney failed in a lame, first attempt to have their client removed from 'court default'. However, although the default was caused by his firm's own gross negligence, this attorney billed his client for the attempt at an inflated rate above the contracted price per hour.
The client stayed in court 'default' for a total of four (4) months. It was finally removed, when the client himself wrote to the Superior Court judge.
The law firm's open discrimination of this PTSD veteran continued and actively increased to such of an extant that the Department of Veterans Affairs (VA) recommended the decorated veteran enter a 45 day PTSD hospital program for his exacerbated disability.
Throughout the length of the contract, the law firm continued to bill at a rate above the contracted amount as well as charge for work not completed.