The below picture is worth 10,000 words...! GOD BLESS OUR MILITARY. Please press the link below the picture to see a larger copy and the story behind it.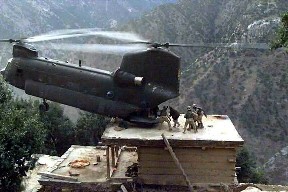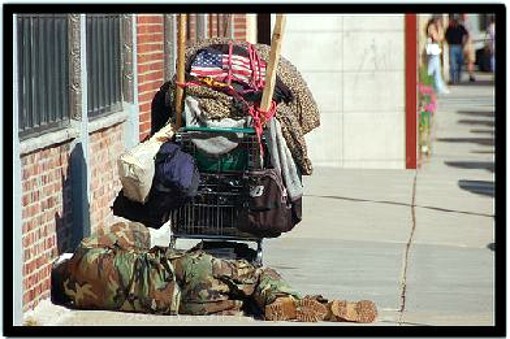 Is America turning her back on her veterans?
BIRMINGHAM, Ala. (AP) - Now that Joe Farmer is dead, people are rushing to honor him.

He was a decorated Vietnam vet, a sergeant in the Army, people at his funeral noted. They carried his flag-draped casket to Fort Mitchell National Cemetery near Phenix City on Wednesday, where a cluster of strangers in uniform saluted. A chaplain prayed; a recording of taps was sounded.

Funeral homes donated services to keep him out of the pauper's cemetery. When Farmer was in neurological intensive care barely breathing, medical specialists at UAB hovered over him for a week. No telling how many thousands of dollars it cost to keep him on life support.

But what's tormenting Farmer's friends at the Church of the Reconciler is this: Why wasn't a fraction of this attention given when Farmer was huddled in the cold, homeless and psychotic and filthy, before he was beaten outside the downtown Birmingham church on the second day of the New Year?

The former soldier died Jan. 10. Police say he was killed for a few dollars.

"We are deeply spiritually ill if resources for death are so freely available, why aren't resources for life available?" the church pastor, the Rev. Lawton Higgs, recently asked, his voice hoarse with grief.

Farmer, 56, turned up at the church, as so many homeless do, months ago. When his mental illness made company and conversation impossible, Higgs let him camp outside the building. The people who brought him food, who urged warm coffee into his shaky hands knew he was growing sicker.

Farmer needed medication he refused to take. He needed shelter but refused to move. Other homeless people tried to tidy his pallet of soiled blankets and help him stay warm.

With a motto promising "radical hospitality," the Church of the Reconciler's leaders are loathe to force their wishes on their homeless friends. On any given morning, it's a place where Birmingham's otherwise castoff eat a hot meal, borrow the phone, pray. A place where they can let their guard down.

So when Higgs decided to call authorities for help, it was hardly a decision made in haste or an urge to run off the troubled soul outside. Farmer's illness was obvious, and his inability to protect himself made him easy prey.

Yet there he remained, despite repeated efforts by Higgs and others to alert the agencies designed to protect people like Farmer.

"I had been working two months to get him off the street and at every turn I was stonewalled," Higgs said.

"We failed him. This community failed him," said Michelle Farley, executive director of Metropolitan Birmingham Services for the Homeless.

The breakdown in the systems designed to prevent this sort of lapse has caused soul-searching among advocates for the poor and homeless. They say they can't blame any single agency; this isn't the time for finger-pointing. Still, something needs to be done.

"The caregivers are overwhelmed. We don't want to be critical of them," Higgs said.

The futility of his efforts to save a sick veteran is testing the pastor's spirit of forgiveness.

Failing to persuade Farmer to voluntarily get treatment, the pastor sought a pickup order from the Mental Health Division of the Jefferson County Probate Court. But there's a long wait for psychiatric beds. Four times in four days Higgs left messages with the staff at the Jefferson-Blount-Shelby Mental Health Authority, hoping they'd declare the situation an emergency.

As a last resort, Higgs called police.

He said he was prepared to press trespassing charges and put Farmer in jail, where Higgs believed the staff would put him back on medication. But the officers refused to arrest him. He was on a public sidewalk.

Even the VA hospital, when Farmer finally agreed to let Higgs drive him, put a cast on Farmer's broken leg and gave him fresh clothes, but declined to admit him for mental health treatment. A cab returned him to the church the next day, Dec. 21.

"We've got a very good program here, and our friend Mr. Farmer was very well taken care of here," VA spokesman Jeff Hester said last week.

If a patient appears to be a threat to himself or others, the hospital can keep them, Hester said.

But from what he could tell from Farmer's records, he wasn't, Hester said.

"For the life of me, I cannot understand how the VA could put him in a taxi and send him back to the street. Lord have mercy," said John Key, a Salvation Army worker who arranged for his military funeral after learning that burial had been planned for the county paupers' cemetery.

Then Higgs arrived one morning in late December to find Farmer had been assaulted by thugs with a paintball gun. It was growing more dangerous to leave him on the street.

Higgs returned to Probate Court Dec. 27 to add an emergency addendum to the pickup order. It had been pending since Dec. 14. As is often the case, Probate Judge Alan King couldn't locate a bed.

"At any given time we have in excess of 40 petitions on file with the court and we just don't have enough psychiatric beds," King said in an interview this week. "I wish we had about triple the psychiatric hospital beds that we have in Jefferson County."

In looking through Farmer's file, he found that a VA social worker requested a psychological evaluation when Farmer was there for his broken leg.

It was not done.

Normally, the Birmingham VA is known for its excellent mental health care.

"We have lower numbers of veterans on the streets than other communities. We do an exceedingly good job. But we didn't do the job for this man," Farley said.

"I am just heartbroken by what happened to Mr. Farmer... To be attacked by paintball idiots, and then to be beaten to death all alone in the cold," she said, choking back tears.

When Higgs arrived at his church Jan. 4, where Farmer once sat were two bloodstains matted with feathers from the dying man's coat. Seven phone calls later, Higgs located Farmer at UAB.

For their part, Birmingham police acted quickly. Three days after the beating, while Farmer was still alive, they arrested Danny Wayne Turner, also a homeless man.

Detective Mike Allison said a witness pointed them to Turner, that robbery appeared to be the motive. Turner was charged with capital murder and is being held without bond at the Jefferson County jail.

"It's a shame to see somebody that's pretty much harmless from what I can tell be taken advantage of," the detective said.

A shame, but not a surprise.

"There's probably dozens and dozens of folks out there on the street in his same shape," Allison said.

There's a misconception that people such as Farmer prefer to be on the streets.

But for the untreated mentally ill, shelter life can be excruciating, said Dr. Jim Parker, a Birmingham psychiatrist who's been working with the homeless for 13 years.

"If they're off their medication, they may simply be too paranoid to stay in a facility with lots of other people. Shelters are loud, chaotic. It's difficult for some non-psychotic people to tolerate, much less someone who has a mental illness," Parker said.

He suggested the city add some sort of safe haven for homeless who can't live in typical shelters, possibly a single-room occupancy facility where the mentally ill would feel safe.

"A lot of times that's the only way to get someone into the system," Parker said.

How Farmer came to have even a few dollars is a mystery to the people at the church. But then so much about Farmer is.

Last week, they gathered around tables in the church's dining room and discussed a memorial service planned for Friday, searching their memories for clues to the person he was before psychosis took over. Higgs learned from Farmer's family in Arkansas that he married after the war. But his wife died young and her loss sent his war-tattered psyche on a deeper spiral.

He'd also been a journalist. Maybe they could locate a piece of his work to read at the service? Did he fancy a certain hymn? A poem?

The phrase "that'll work" keeps coming back to volunteer Judson Armstrong. Tossed into Farmer's unintelligible word salads, it was his stock answer when someone offered coffee or a sandwich.

One man suggests that maybe they can take up a collection for a plaque, inscribed in Farmer's memory, to hang on the wall where they gather for breakfast every morning.

"Let's not set our goals so low," Higgs said.

He wants Farmer to be remembered long after taps stops sounding at the Fort Mitchell cemetery.

"Let's name this specialty shelter we're going to get built after Joe."

Maybe that'll work.

The Church of the Reconciler, at 112 14th St. North, will hold a memorial service for Joe Farmer at 10:30 a.m. Friday. The public is invited.

---

Information from: The Birmingham News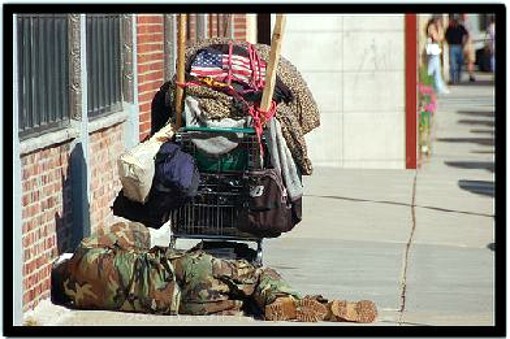 Is America turning her back on her veterans?
The below picture is worth 10,000 words...! GOD BLESS OUR MILITARY. Please press the link below the picture to see a larger copy and the story behind it.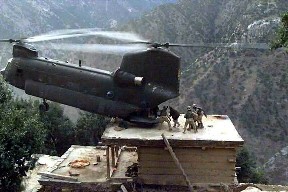 HOLLYWOOD NEWS: Oliver Stone recruits Bruce Willis for My Lai massacre film

----- Original Message -----
Subject: Homeless Veterans
I have a small organization in Grand Rapids MI called Operation Victor Hotel. We are small but highly motivated group of musicians and veterans dedicated to helping the 194 homeless veterans in our small city. Below is a list of veteran friendly business in Grand Rapids.
I wanted to share a story with you and the readers of your site. I wish it were a pleasant story. Last weekend we held a benefit for the veterans home in our city. We worked nonstop for six weeks to promote and collect donations for the auction we were having. The first places we hit were the business around town that had the "we support our troops" signs in front of there stores. Of the 50 plus places we went to not one of them would even donate a twenty dollar gift cirtificate to help out our veterans. Of all the radio, TV and newspapers in and around our town only 1 responded to our calls and ran ads for us. We also plastered the town with over 1000 fliers. The night of the benefit 8 people showed up to enjoy the music and support our veterans. We raised a total of $100 for the night.
For all the grandstanding by people in this country, we are shocked by the indifference of the American people that enjoy the freedoms that our troops have provided for them.
Our troops have slept in trenches, in the snow and rain with bullets and bombs flying around them. It is absolutely unacceptable that they have to return to the lives that they gave up to sleep in the streets again.
We are now a little wiser but our spirit and goals have not been broken. Hang on guys we are on our way.
Here is a list of veteran friendly business in Grand Rapids. If you would like to be added to the list let us know. If you use services that one of these business provide show them the love they have shown for our veterans.
The Grand Rapids Rampage
Oldies 98.7
WLAV 96.9
The Jaguar Band
Bridge Street Pizza
Franklin Press
Our veterans went to war for us. Now we are going to war for them.
| | |
| --- | --- |
| From: papadroog (Original Message) | Sent: 9/27/2006 3:14 AM |
Operation Victor Hotel is a charitable organization dedicated to helping homeless veterans get back on their feet. Currently in Grand Rapids there are 194 homeless veterans. We will be holding our first meeting on October 9th at 7pm at the Lexicon Club (209 Lexington) to discuss the course the organization will take. We hope to have representives from the Veterans Affairs office, local homeless shelters and some veterans to help us define our path.

If you would like to help, please contact me at papadroog@yahoo.com or my phone number at 616-532-6838 or you can talk to me at the benefit on Saturday.

Thanks Fred
...........................