Evidence of New Jersey Governors' and their staffs' over ten year Cover-up.
http://www.americans-working-together.com/this-is-how-one-state-repays-veterans/id92.html
Please join Jack's FACEBOOK Cause at: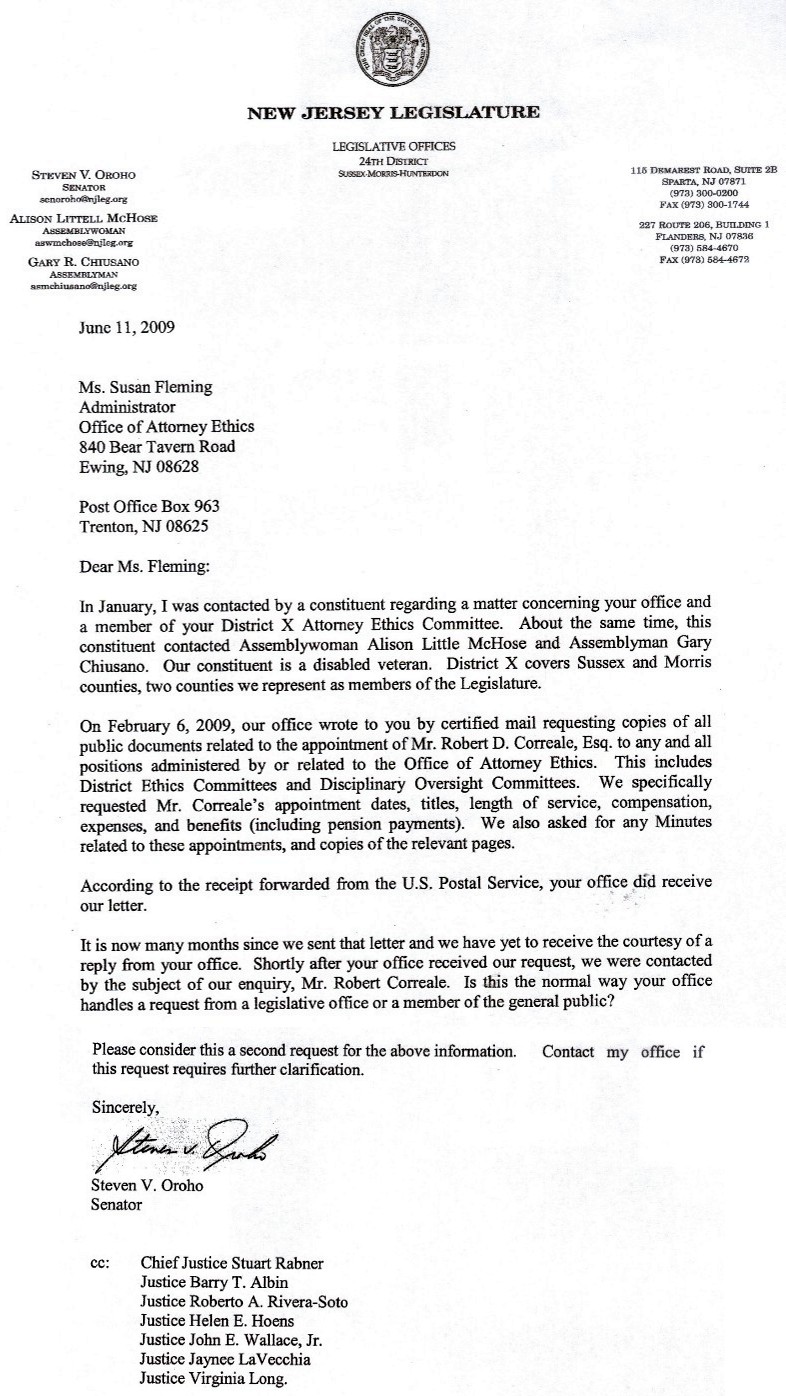 COMMENTS ABOUT JACK CUNNINGHAM'S CHARGES AGAINST THE STATE OF NEW JERSEY
Your "Due Process" under the law was violated. Perjury is also an issue which should not be over-looked.
Try communicating with the US Attorney and/or FBI.
---------
Having been a pretty good "street cop" for 35 years this December, I read carefully what you sent me.
If I was involved with this case and having the documentation that you and the courts have, I believe that I would approach a mid-ranking Officer in the police service in your area and inquire about "perjury" investigations.
--------------------------
After spending 28 years in law enforcement, I've never seen such screw ups in my life. Sounds like these lawyers had something going with friends in high New Jersey government places.
--------------------------
Theft of your constitutional rights and due process under the law, by deception.
| | | |
| --- | --- | --- |
| 1055. | Edgar Goulet | The (New Jersey) Courts and those who run them are the criminals and a fifth grader can see that. Veterans with PTSD have gone through hell and back for this Country and top priority and all the respect that goes along with it. This game will end someday soon, as you will all be judged by someone else other than yourselves. (Corrupt Politicians & Corrupt Lawyers) |
--------------------------------------
The evidence is clear that there has been a Cover-Up in New Jersey Supreme Court's Office of Attorney Ethics, since December 27, 2000.
For over seven years now, New Jersey's governor's office, attorney general's office, NJ Supreme Court & Superior Court and Office of Attorney Ethics are still protecting former New Jersey Supreme Court Attorney Ethic's Vice-Chairman Robert Correale and his former Law Firm, Maynard & Truland.
Due to the Conflict of Interest of Robert Correale being a Vice-Chairman, I have been asking for an investigation outside the Office of Attorney Ethics.
The Governor's office, his Attorney General's office, Senator Robert Menendez's office and NJ Supreme Court Office of Attorney Ethics all insist that Robert Correale's former District X committee investigate my charges against him and his former law firm, Maynard & Truland. Back in 2003, after a deluge of my letters, the Office of Attorney Ethics had their nearby committee, District XI do a perjury-filled, malfeasance, lame investigation; where they found Robert Correale and his former law firm, Maynard & Truland cleared of all charges. Correale and his law firm's lawyers supplied no supporting evidence with their sworn certifications. I supplied Maynard & Truland's own Contract, Invoices, along with Superior Count Documents and court-filed letters.
Robert Correale's and his fellow attorneys' perjury was accepted without question by District XI Attorney Ethics Official Robert L. Stober 973-778-0154.

Honorable New Jersey Governor Jon Corzine at 609-292-6000. Over the years, Gov. Jon Corzine has received at least seven U.S. mail letters (three certified) and over twenty emails on this subject with attached evidence, but his office has not returned any communications. Ask his aid Susan, why she does not return my phone calls and why her staff refuses to give me her last name. There are two Susan's, who work in Corzine's Office.
Susan Prickett 609-777-2463
Susan Senft 609-777-2645

(When my supporters call the governor's office, they are told that I should send in a letter detailing my charges. When these governor office officials are informed that I have already sent in numerous letters, the officials play dumb.)

After reviewing my internet evidence, New Jersey Federal Senator Robert Menendez's office (Debbie Curto - 973-645-3192) admitted to me that my evidence is clear; Open perjury was committed back in 2003 by Robert Correale and his Law Firm, Maynard & Truland to New Jersey's Supreme Court District XI committee. Debbie Curto never put anything in writing though.

Since 2003, Ms. Regina M. Garb, Director of Citizens Services & Relations (Phone: 609-292-4925) has been the source of this Cover-Up in New Jersey's Attorney General Office.

The Cover-up within the New Jersey Supreme Court Office of Attorney Ethics involves:
Director David E. Johnson Jr. 609-530-4008
John McGill, III 609-530-4008 Deputy Ethics Counsel
Janet Brownlee Miller 609-530-4008 District Ethics Coordinator
Currently, Robert Correale is the assistant District Attorney for Vernon Township, New Jersey. Town hall Phone Number: (973) 764-4055
Original divorce attorney for Maynard & Truland, Edward Busichio 973-668-4845. The original divorce default was a "Surprise" to him.
http://www.americans-working-together.com/attorney_ethics/id15.html
Sussex County Superior Court Judge Ronald Graves determined that my civil legal malpractice charges against Robert Correale and his Maynard & Truland law firm warranted the Law Division for damages. However, the transcript could not be typed. Ms. Jane Schmidt was the Official Superior Court Reporter, who wrote that Judge Ronald Graves' court transcript was not complete. 973-579-0689.
http://www.americans-working-together.com/id111.html
Obstruction of Justice
A criminal offense that involves interference, through words or actions, with the proper operations of a court or officers of the court.
http://legal-dictionary.thefreedictionary.com/obstruction+of+justice
The F.B.I. Has Determined That These Charges Deserve An Investigation.
After evaluating your information it is determined that you should contact your local FBI office at Newark, New Jersey. Request to speak to someone on the "Public Corruption Squad".
Official MisConduct:

a. He commits an act relating to his office but constituting an unauthorized exercise of his official functions, knowing that such act is unauthorized or he is committing such act in an unauthorized manner; or
b. He knowingly refrains from performing a duty which is imposed upon him by law or is clearly inherent in the nature of his office.

Malfeasance:

Wrongdoing, misconduct, or misbehavior, especially by a public official.

Misfeasance:
| | |
| --- | --- |
| 1. | a wrong, actual or alleged, arising from or consisting of affirmative action. |
| | |
| --- | --- |
| 2. | the wrongful performance of a normally lawful act; the wrongful and injurious exercise of lawful authority. |
Legal Malpractice:

Legal malpractice may occur where a lawyer acts in a negligent manner when providing legal advice or representation.
PLEASE READ SOME OF FORMER U.S. MARINE, DISABLED VIETNAM VETERAN AND WEBMASTER'S JACK CUNNINGHAM'S DAY-TO-DAY EXPERIENCES OF LIVING AND SERVING (24/7) IN A VIETNAMESE PEASANT VILLAGE AT: http://www.capveterans.com/jack_cunningham

It is a disgrace and crime how the State of New Jersey has treated Jack these past seven (7) years.
PLEASE GET TO KNOW ME. I'M THE SKINNY KID ON THE LEFT OF THE BELOW PICTURE.
WHY DO THESE TWO YOUNG MARINES LOOK DRUNK?
PLEASE PRESS FOR A LARGER PICTURE COPY

Jack, 19 George, 18
Webmaster Jack Cunningham (Sussex, NJ) and George Dros (Cooperstown, NY) are sitting at a table in a Duc Duc Refugee Village peasant hut, near the village's market place. The two, young United States Marines are members of CAP Team 2-9-2. (CAP Teams were composed of about 8 to 13 Americans, who lived and served 24/7 in Vietnamese peasant-farming villages. The Duc Duc Refugee Village was composed of about 2,000 homes.)
In the above picture, Jack's and George's eyes were shut, because of complete exhaustion. It was July 1970. At the time this picture was taken, the Americans in Duc Duc were not sure whether the CAP Unit would be pulled out of the village or whether it would be wiped out. We were experiencing heavy combat. Intelligence reports were coming in daily that the Communists wanted to punish the village while the Americans were still there.
By wiping out CAP 2-9-2, the terrorists hoped to leave an example to other CAP Villages. With alerts at the highest level, night ambush responsibilities were 100% watch throughout the night. With two long patrols a day going outside the village, it didn't leave much time for the eight or so Americans to sleep.
Around the day this picture was taken, an intelligence report came in from the 1st Marine Division Headquarters in Da Nang that the high Communist Command wanted to speed up President Nixon's troop pullout from Vietnam. They wanted to embarrass the Americans on a wide-scale and influence the American People into pressuring a faster troop pullout. Their plan called for wiping out the Fifth Marines at An Hoa. It was going to involve thousands of Communist Forces. The Village of Duc Duc was on the large Marine Base's perimeter and was said to be the main route for the Communist attack. Our orders that night in July 1970 was to set up in the most well protected position. Our Cap Unit was expected to try and hold off the Communist drive off as long as possible. We were expected to serve as a warning or trip wire (Queens Gambit) for the Fifth Marines.
Months after Jack and George pulled out of the village of Duc Duc, the Vietnamese communists punished the peasant village by burning it to the ground. Hundreds of civilian men, women and children were killed, wounded and reported missing. Two thousands homes were reduced to ashes. The blaze could be seen from twenty-five (25) miles away in Da Nang. It was the light of the blaze that guided United States Marines helicopters to the scene.
The boy with Jack is the Marine's village boy. These village boys would run errands, cook C-Rations, clean up-after, massage tense muscles and serve as interpreters for the Marines. Usually, each Marine had their own boy to help him around the village.
Many times, adult peasants of Duc Duc would supply these boys with intelligence information of planned terrorist attacks on the village. Supplying these intelligence reports on terrorist movements and plans may have been the reason why the Duc Duc Refugee Village was later burned to ashes.
A month after the above picture was taken, the boy lost both of his parents in a terrorist rocket attack on their area of the Duc Duc Refugee Village. After his parents were killed, the boy moved to a relative's home closer to the City of Da Nang; which in the long run saved his life the night of the Duc Duc Massacre.
...........
Former CAP Marine and webmaster Jack Cunningham and his wife, Joan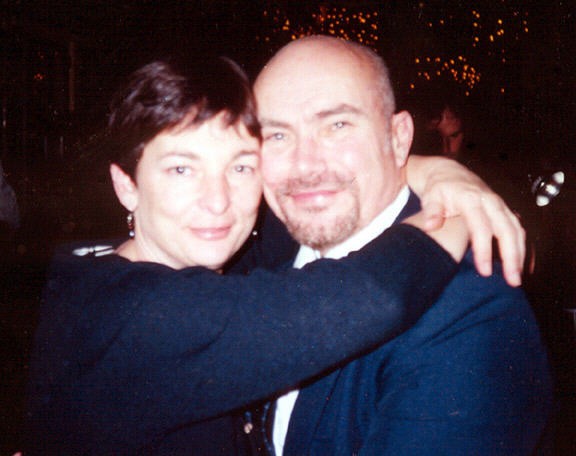 New Jersey Governor to Jack Cunningham: Drop dead?
For over a year now, Governor Jon Corzine refuses to answer Jack's letters.
But the veteran refuses to go away, until he gets answers to his civil rights questions.
Jack in the Duc Duc Refugee Village. He is holding his M-79 grenade launcher (aka The Blooper) in the below picture. Behind him is the Song Thu Bon (River), just north of the Fifth Marines Combat Base at An Hoa..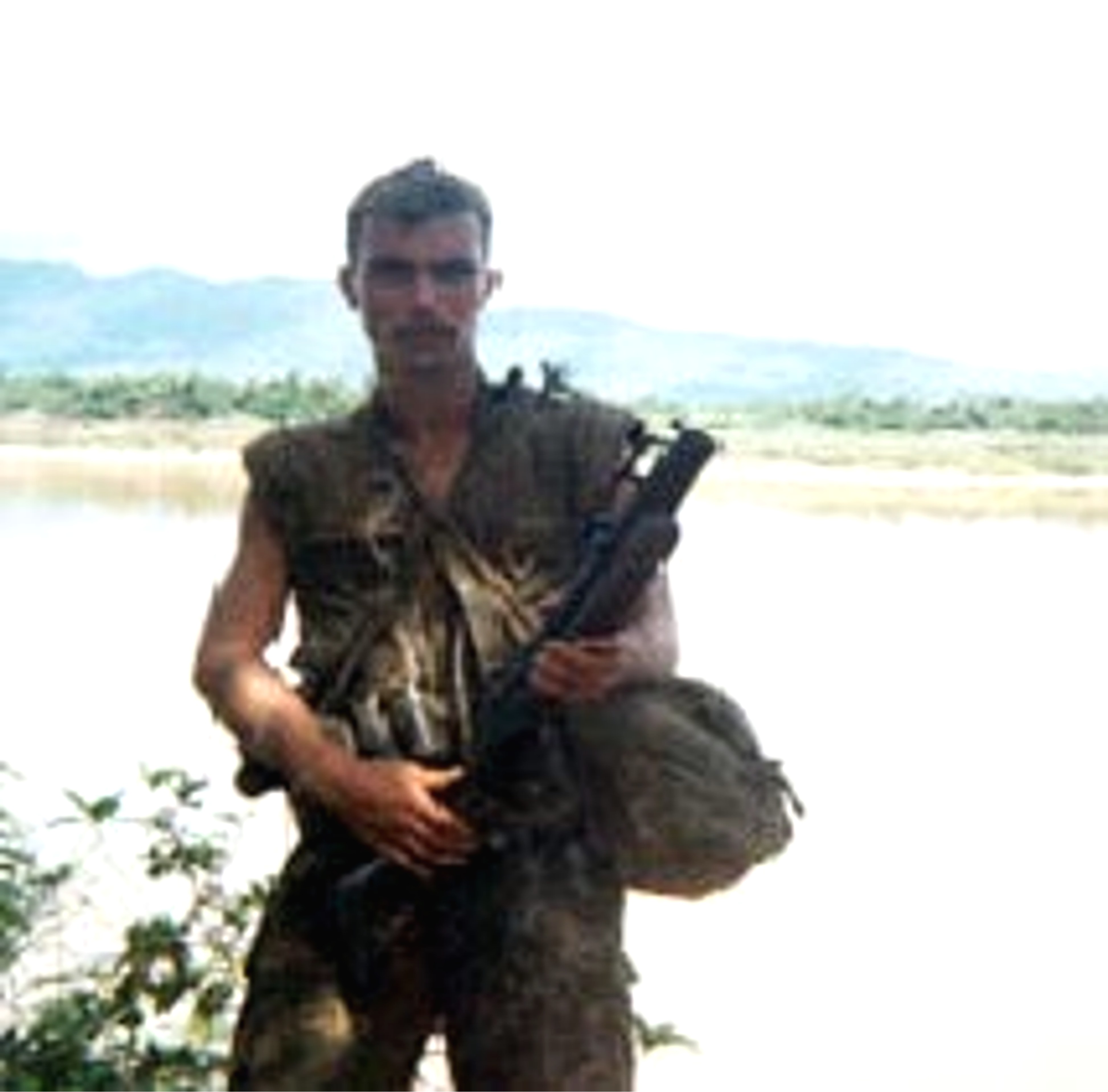 JULY 17, 1970

On what was going to turn out to be my hottest day in

Vietnam

, we had asked our (new to the village) sergeant for just a short, daily patrol. Although it was still morning, we had already completed a number of our daily assignments around the village and the temperature was already scorching. As usual, our Navy Corpsman already had treated a long line of peasants and my buddy, George Dros and I (our unit's demolitionmen) had already setoff a couple of controlled explosions of dud high explosive rounds that the local children collected. The loyal children received payments based on the size of their dud round.

The CAP 2-9-2 patrol of five Marines and six Vietnamese Popular Forces (PFs) Militiamen left Phu Da with full gear. Sergeant Donald Eifford led the patrol down a small, dusty path between two tall cornfields. I was the M-79 Grenadier and a Lance Corporal. When we exited the cornfields, Sergeant Eifford took out his field glasses and spotted three figures entering a known Viet Cong frequented treeline. The treeline was once the site of a peasant village.

Since no villagers were allowed that far from Phu Da, it was safe to believe that the three figures entering the treeline were Communists. Sergeant Eifford radioed for mortars on the jungle treeline from the Fifth Marines Headquarters at An Hoa. (Only a month before, CAP 2-9-2, two tanks and a company of about 130 Marine Grunts from the Fifth Marines worked the same area. Even with all those Marines and supporting equipment, the treeline was a bad neighborhood to say the least.)

Using Eifford's map grid coordinates, the Marine mortars from An Hoa were very accurate. (He was excellent at calling in support for us.) Our sergeant decided for the eleven-man patrol to go after the Communists.

About a mile into the thin, open rice patty dikes, fear triggered five of our six Village Militiamen to refuse to go any farther toward the mile long piece of jungle. Even though we tried to influence their decision, the militiamen refused. They were terrified. To be honest, having experienced combat there myself, I was a little worried. Without the other PFs, there would be only six of us in the thick treeline.

Like I already mentioned, the last time we dealt with the Communists in the same piece of jungle, we had about 130 men and 2 tanks. In spite of all the men and equipment, we still had to call in F-4 Phantom fighter jets for a couple of bombing runs.

The lone Vietnamese militiaman, who agreed to go along with us, was walking point (first) anyway. He had to pass through five Marines on the less than two-foot wide rice patty dike in order to leave with his buddies.

As the CAP 2-9-2 patrol came close to the treeline that only minutes earlier three Communists entered, the sergeant ordered me to walk point (first) and slam the face of the treeline with M-79 Grenade Rounds. Immediately, I moved up in line and started firing. About a hundred yards outside the large treeline, we had to stop. My grenade launcher jammed from a BeeHive (shotgun-like) round casing. I cleared my weapon and reloaded with just high explosive rounds.

(In the Command Chronology for CAP 2-9-2 for July 17, 1970, it was documented that I shot a total of 22 M-79 High Explosive (HE) rounds that entire day. Although I picked my targets well, I thought that I shot much more than 22 high explosive rounds. It was a long day under the hot sun.)

Once we entered the jungle, we immediately spread out into two-man teams and found Communist huts, bunkers, and trenches and stored food supplies. My buddy

L/Cpl. George Dros did some extra searching under some heavy jungle canopy. Inside a large hut that George found was Communist military documents and the equipment for making booby traps. In another hut, we found freshly cooked rice still warm in four bowls.

We were elated that we chased off the Communists. I took my handy Kodak Instamatic Camera from my field jacket and started taking pictures. A couple of the guys even posed.

This feeling of satisfaction lasted only a few minutes. Suddenly, we were hit from what seemed like every direction. The Communist fire was extremely intense.

Immediately, Sergeant Eifford radioed for mortars from the An Hoa Fifth Marine Base. The Willie Peter placing round was right on target. However, probably because of the shifting of the M-81 mortar's tri-pod, the ten M-81 high explosive rounds walked directly towards where we were pinned down. We thought that our own mortars would kill us. I didn't know what to do. The thought of moving to my right or left was out of the question. The Communist fire was too furious. The last round exploded only about 20 yards in front of us.

After calling in the mortars, our sergeant called in helicopter and fixed-wing air strikes. During one of the initial passes over the trees, the fixed-wing pilot spotted a cluster of huts deep in the treeline. He concentrated his ordinance and succeeded in triggering some secondary explosions.

During all the action, the rest of the Marines from CAP 2-9-2 and a few Vietnamese PF militiamen arrived from Phu Da. Meanwhile, CAP 2-9-1 from the other side of the

An Hoa Marine Base rushed to our aid, but they got pinned down just outside the treeline that the six of us were surrounded in.

For a number of hours, we had to fight off the Communists ourselves. It was in July and the temperature was said to be over 100 degrees. (I don't remember for sure, but the number 110 comes up. Our Navy Corpsman had his mother send a thermometer just about a week before. (He was always saying how hot it was. It became a joke for us.) Regardless, whether it was 100 or 110 degrees, it was extremely hot. Water ran

out early.

Once CAP 2-9-1 arrived, the Communists broke contact with us. As the CAP's demolitionmen, George Dros and I blew as much as we could with our C4 plastic explosives. After we ran out of C4, George and I collected some hand grenades and destroyed the remaining Communist belongings and equipment.

It was very important what route we left the jungle. We needed to take a route that the enemy would not expect us to take. Otherwise, the Communists would be setting up an ambush for us. We set up security then left the treeline together on a route that crossed through a chest high, slow moving stream. (My camera's film was destroyed.) While in the stream, a few guys were a little nervous about the poisonous snakes, especially the deadly Bamboo Viper.

Once on the other side of the stream, CAP 2-9-1 left for their own village. The Americans and the few PF Militiamen of CAP 2-9-2 rested on a small knoll for a couple of minutes. We were out there under some ugly conditions for many hours and we needed a much-needed rest. Besides, our water ran out hours before and a few of us were near Heat Exhaustion. Myself included.

Our Navy Corpsman was tired of telling us not to drink the filthy rice patty water. Since the patties were the universal toilets for their peasant caretakers as well as water buffaloes and the watery grave of many insects, the Corpsman didn't appreciate us drinking the filth through our closed teeth and then wiping our teeth clean. (We didn't bring our toothbrushes.) Our sweat-soaked, camouflaged utilities were our tooth implement of necessity.

Three of my buddies went to search for some desperately needed clean water.

(The problem was the three Marines went without their weapons. I'd

say the intense heat; the day's activities and lack of water were getting

to them.)

After only a few minutes of rest, our sergeant jumped up. He was in a hurry to get back to Phu Da for fear that the Communists might attack the unprotected village. (One of the Vietnamese Militiamen might have read one of the Communist documents that George Dros found in the makeshift booby trap factory.)

I told the sergeant that the three men went for water without their weapons. I volunteered to stay. All I cared about was that my friends were out there with no weapons.

The Communists must have followed us. About fifteen minutes later, as my three, joyful, wet-buddies were returning with the much needed water, the Communists attacked with rifle fire and small explosive weapons. For protection, each of my buddies drove into a large, rice patty filled with water. It was about a hundred yards wide and it separated us.

For the next fifteen to twenty minutes, I fought alone in the open to draw the Communists' fire, so that my buddies would survive or not be captured. The sounds of the zinging bullets and bombs were constant.

Thank God, those Viet Cong Terrorists were bad shots.

In order to give the impression that there were more Marines on the knoll than just me, I switched between my M-79 Grenade Launcher to my buddies' M-16 Rifles and a

M-60 Machinegun. However, I'm sure it didn't take long before the Viet Cong Terrorists realized I was the only American on the small knoll in the middle of the open rice patties. If they killed me, the V.C. Terrorists could just walk up to my buddies and do what they wanted to them.

(The Communist fire was pretty fierce.)

I was no different than any other American in the Combined Action Program. The thought of leaving my Cap Brothers did not even enter my mind. At the time, we only had about eight Americans living in Phu Da. I loved them. One of my buddies pinned down before me in the rice patty was even married and had children. Some of George Dros' comments are below.

You could say that back then; I felt my buddies were all I had. Due to a number of different circumstances, we felt very alone. Even, many American people back home were against us fighting the Communists. In June 1970, during a military sweep just outside our village, we found thousands of American Dollars that were donated to the Communist Terrorists by an American College student group at Berkeley University. The donated money may have been used for the bounties on our heads.

I served in Phu Da during the student shootings at Kent State University.

I was also in Phu Da when my hometown of Rosedale, Queens had its Vietnam Veteran Memorial attacked twice by tar and paint during 1970. (It's the first Vietnam Veteran Memorial in all of America.)

http://home.earthlink.net/~rosedalememorial

Back at the knoll, a couple of the Marines who left with my sergeant returned to help but it took them some time walking along the thin rice patty dikes. For all they knew, they were walking into an ambush themselves. Our sergeant led the rest of the CAP 2-9-2 Americans and Vietnamese PFs back to protect Phu Da from a possible Communist attack.

Daniel Gallerger was the first Marine to arrive to help me. He came into the firefight shooting his weapon and laid down right next to me. Daniel's on The Wall in

Washington DC for something that happened months later. He was a good Marine.

In the end, everyone was saved and my sergeant received a well-deserved medal for his actions. It was a miracle that no Americans were hurt that entire day.

On July 22, 1970, CAP 2-9-2 returned to the jungle treeline with three infantry companies (C, E, and F) of the Fifth Marines, tanks and CAP 2-9-1.

My buddy George Dros (one of the guys I saved) wrote his parents about the episode and they wrote and thanked my parents. I felt great.

To this day, George and I are extremely close and we both live up here in the beautiful, hilly farmland of Sussex County, New Jersey. However, we don't really talk much about the war portion of serving in Phu Da, Vietnam. To this day, it's still extremely hard to talk about the ugliness of war. Instead, we talk a lot about our American Buddies as well as our Vietnamese Friends and the many Vietnamese Parents and Vietnamese Grandparents who adopted us into their families.

ACTUAL UNIT REPORT FOR JULY 17, 1970
17 July 70

A PF member of a CAP 2-9-2 patrol accidentally detonated an unknown type booby trap rigged with an unknown type firing device alerting an enemy ambush at AT 872500, 2.5 km N of Duc Duc District Headquarters. The patrol received SAF and returned fire with organic weapons fire, 22 M-79 HE rds,

2 M-72 LAAW rds, and called a helicopter gunship fire mission on the enemy. The enemy fled in an unknown direction. One PF was WIA by the exploding SFD. The PF was rendered first aid and medevaced by helicopter. A sweep of the area was nonproductive. RESULTS: 1 PF WIA(E).

George Dros' Comments about the above action.
Some time in July 1970, we went on a (daily) patrol that took us farther into enemy territory than ever before. The temperature this day was in excess of 100 º. With only three (3) other Marines and 1 Chou Hoi, we confiscated a large cache of Vietnamese communist terrorists (V.C) explosives, detonators, documents and battle plans for upcoming engagements. (This most probably was a small terrorist bobby-trap factory.)

After neutralizing their base camp, we were hit by Viet Cong terrorists' rocket-propelled grenades, mortars and small arms fire, pinning us down for over an hour. We called for artillery from the Marine Cops' 5th Marines Combat base at An Hoa and a react team from our brother CAP team 2-9-1. Return artillery fire was immediate.

It took CAP 2-9-1 a while to reach us, because as they neared the tree line that we were pinned down in, they were also fired upon.

After about three hours, the V.C. broke contact and both CAP teams started back to their respective villages. We had to cross a chest deep river, carrying our weapons over our heads, but at least we were in our own back yard. We stopped on a small knoll for much needed water, since we had run out of water hours before, because of the intense heat and sun. Two Marines and I filled everyone's canteens while Jack and the rest of the patrol stood cover.

Returning from the well, I saw Jack standing cover by himself, as Sgt. Eiford thought the village might be hit and took the rest of the unit back with him in case of enemy contact. As we made our way to the knoll that Jack was on, we took heavy fire from our right, pinning us down behind a small rice paddy dike. Jack then exposed himself to enemy fire to try and keep the V.C. away from us, switching from his own M79 grenade launcher, to my M-16 rifle and one of the Marines' M-60 machine gun. Jack kept the V.C. off balance long enough for us to pull ourselves along by the rice stalks until reaching him. The V.C. broke contact, probably fearing an artillery attack.

This was Jack, always caring and making sure the people he loved were safe and protected from harm. Jack's code in life has always been the same: passion for his family, his country and the Corps. I will always be thankful for being a part of Jack's family.

PLEASE PRESS HERE TO SIGN JACK'S PETITION REQUESTING DUE PROCESS FROM THE STATE OF NEW JERSEY.
GOD BLESS AMERICA
"The willingness with which our young people are likely to serve in any war, no matter how justified, shall be directly proportional to how they perceive veterans of early wars were treated and appreciated by our nation."
- George Washington
"This Nation was founded by men of many nations and backgrounds. It was founded on the principle that all men are created equal, and that the rights of every man are diminished when the rights of one man are threatened."
President John F. Kennedy
Being the local Vice-Chairman of New Jersey's Supreme Court's Office of Attorney Ethics, Robert D. Correale, Esq. was able to do what he and his Law Firm of Maynard & Truland wanted. With all their friends and influence around the State of New Jersey, they were clearly above the law. At least, they were for the last 5 to 6 years.