National Park Service Director Jonathan B. Jarvis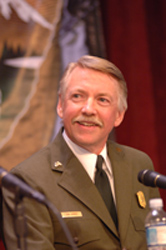 This is not the first time, National Park Service Director Jonathan B. Jarvis was heartless to America's Veterans and their memorials to the brave and honorable dead.
Details are below.

Congressman Questions National Park Service Director Why He Barricaded Veterans Memorials
Congressman Gowdy's questions to National Park Service Director Jonathan B.
Jarvis at the Wednesday, October 16th, House Oversight and Government Reform and House Natural Resources Committees joint hearing entitled, "As Difficult As Possible: The National Park Service's Implementation of the Government Shutdown."
Please press the below link to watch the brief video.
https://www.youtube.com/watch?feature=player_embedded&v=ZX8AoB3zX0o
The National Park Service Director Jonathan B. Jarvis is and was no friend of America's veterans, and especially the United States Marine Corps.

Back in Feb. 2007, Director Jonathan B. Jarvis tried to have a USMC and U.S. Navy Remembrance memorial removed from Pearl Harbor.

See some comments below.

From: Colonel John R. Bates USMC (ret) jrbatesusmc@aol.com

UPDAT

...

E: A couple of years ago, I was the Operations Officer for the Pearl Harbor Visitor Center, on the waterfront between the USS ARIZONA and the USS BOWFIN. The Commandant of the Marine Corps was the featured speaker at the dedication of the USS ARIZONA Marine Remembrance, 10 November 2006. The National Park Service, which administers the USS ARIZONA Memorial is renovating all of Halawa Landing, the site of the Marine Remembrance. The Regional Director of the National Park Service Western Region, Jonathan B. Jarvis, stated on the local TV news that the Marine Remembrance would be removed. I challenged him on that statement and convinced him that would not happen without a fight. I passed the word to (disabled Vietnam vet) Jack Cunningham (Americans Working Together), who in turn asked his readership to email Jarvis that the entire USMC would make every effort to have him relieved of his duties if he moved that monument. I was copied on many of the emails to him from Marines, their friends and their families that it nearly fried my computer. And it worked. In order to save his job, Jarvis backed down. The Remembrance now belongs to the USMC and has its' rightful place in direct view of the USS ARIZONA.