No Federal Leads On GOP Campaign Headquarters Bombing
Republican, Democrat, or Independent, all Americans should be outraged.
'Nazi Republicans, Leave Town or Else': Vandals Throw Fire Bomb into North Carolina GOP Office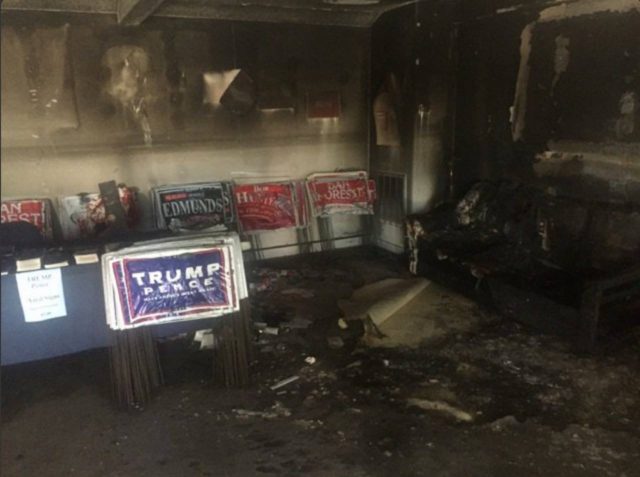 RALEIGH, NC – A North Carolina Republican Party office in Orange County was firebombed overnight, causing major damage and destruction. Thankfully, there was no loss of life.
The explosive device was thrown through the window of the office, and the words, "Nazi Republicans, leave town or else," were painted on a nearby building. The news comes less than 25 days before Election Day, as dedicated NCGOP volunteers and activists are canvassing the state and spending long hours getting out the vote and exercising their rights in a free and open democratic society.
"Whether you are Republican, Democrat, or Independent, all Americans should be outraged by this hate-filled and violent attack against our democracy," said Dallas Woodhouse, executive director of the North Carolina Republican Party. "Whether the bomb was meant to kill, destroy property, or intimidate voters, everyone in this country should be free to express their political viewpoints without fear for their own safety. We will be requesting additional security at all Republican Party offices and events between now and Election Day to ensure the safety of our activists, volunteers, and supporters."
Woodhouse added, "We will not be deterred by this hate crime."