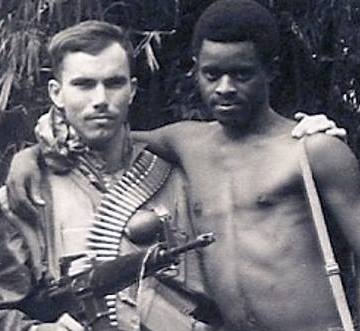 VIETNAM VETERANS NEVER GIVE UP
Please put on your speakers and then 'Reflesh' this page..
THEY WERE FRIENDS OF THE 'PEOPLE OF THE UNITED STATES'

John Kerry Has a HISTORY of Condemning America's Military and Our Allies.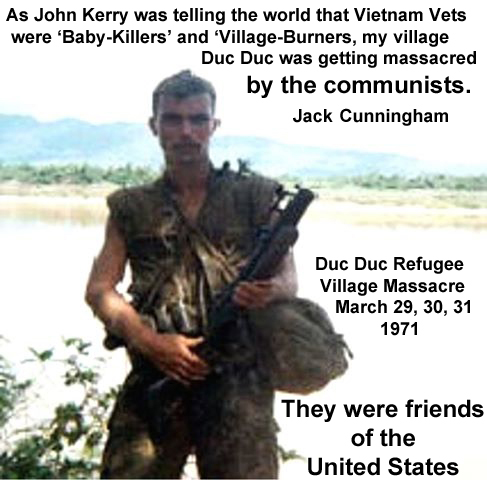 MORE DETAILS ABOUT JOHN KERRY ARE BELOW
"A man good enough to shed his blood for his country, is good enough to receive a square deal afterwards . . ."
-- Theodore Roosevelt

"The willingness with which our young people are likely to serve in any war, no matter how justified, shall be directly proportional to how they perceive veterans of early wars were treated and appreciated by our nation."
SENATOR JOHN KERRY'S DISCHARGE - THE JIMMY CARTER LEGACY CONTINUES
"We are positive..."

Words of Captain Donald L. Nelson, JAG corps USN ret: I was on active duty as a U.S. Navy JAG, when all of this was going on 25 to 30 years ago, and so was Mark F. Sullivan, who at all relevant times was the personal JAG to J. William Middendorf, then the Secretary of the Navy.
We are trying to break this absolutely true story nationwide, i.e., Fox News, C-Span, and hopefully the major networks. We are positive that John Kerry was one of those dishonorably dismissed from the Navy for collaborating with the Viet Cong after he was released from active duty, but still in the Navy and for a totally unauthorized trip to Paris. John Kerry later got an "honorable" separation in 1978, some 12 years after joining the Navy, under President Carter's "Amnesty Program" for draft dodgers, and other malcontents, who fled to Canada and Holland, among other places, to avoid military service to our country.

This is why John Kerry has refused, and continues to refuse, to release all of his Navy records: they reflect that he was Dishonorably Dismissed from the United States Naval Service. If they do not (which they do) he would have released them to the public. Again, he has not done so, because he well knows that the truth would kill his challenge to President Bush. If you would like to talk with me, I may be reached at telephone number (925) 964-0943 in Danville, California, or at DLNelsonSF@msn.com. Contact information for CAPT Sullivan is below.
Sincerely, DONALD L. NELSON CAPT, JAGC, USNR (Ret.)

Mark F. Sullivan Sullivan Taketa LLP 31351 Via Colinas, Suite 205 Westlake Village, CA 91362-4576 Tel. (818) 889-2299 mark.sullivan@calawcounsel.com
.......................................
Please turn on your computer's speakers and press the next link to hear John Kerry admit to war crimes. If you would like to hear it again, please press your "Refresh" key. http://www.capveterans.com/john_kerry
According to the 14th Amendment of the United States Constitution, John Kerry should not even be a senator. He's still there for reasons unknown to the American People.
It has nothing to do with his military record in Vietnam. It has to do with what John Kerry did, when he returned from Vietnam. He was still in the military.
Less than a month after the massacre of the Duc Duc Refugee Village, Senator John Kerry became a spokesperson and negotiator for the communist government in Vietnam. At the time, John Kerry was an officer in the United States Navy.
Sen. Kerry met with the Viet Cong government to negotiate a peace settlement without the authorization of our government:
"I have been to Paris. I have talked with both delegations at the peace talks, that is to say the Democratic Republic of Vietnam and the Provisional Revolutionary Government and of all eight of Madam Binh's points it has been stated time and time again, and was stated by Senator Vance Hartke when he returned from Paris, and it has been stated by many other officials of this Government, if the United States were to set a date for withdrawal the prisoners of war would be returned." (Vietnam Veterans Against the War Statement by John Kerry to the Senate Committee of Foreign Relations, April 23, 1971.)
http://www.capveterans.com/the_duc_duc_resettlement_village/id7.html
May/June 1970
Kerry and Julia traveled to Paris, France and met with Madame Nguyen Thi Binh, the Foreign Minister of the Provisional Revolutionary Government of Vietnam (PRG), the political wing of the Vietcong, and other Viet Cong and Communist Vietnamese representatives to the Paris peace talks, a trip he now calls a "fact-finding" mission.

(U.S. code 18 U.S.C. 953, declares it illegal for a U.S. citizen to go abroad and negotiate with a foreign power.)

http://www.archive-news.net/Kerry/JK_timeline.html
PRESS HERE TO LISTEN TO SENATOR JOHN KERRY'S FIRST SPEECH BEFORE CONGRESS.
April 18, 1971

John Kerry first appeared on NBC's Meet the Press with Al Hubbard and made the following statement.:

MR. KERRY (Vietnam Veterans Against the War): There are all kinds of atrocities and I would have to say that, yes, yes, I committed the same kind of atrocities as thousands of other soldiers have committed in that I took part in shootings in free-fire zones. I conducted harassment and interdiction fire. I used 50-caliber machine guns which we were granted and ordered to use, which were our only weapon against people. I took part in search-and-destroy missions, in the burning of villages. All of this is contrary to the laws of warfare. All of this is contrary to the Geneva Conventions and all of this ordered as a matter of written established policy by the government of the United States from the top down. And I believe that the men who designed these, the men who designed the free-fire zone, the men who ordered us, the men who signed off the air raid strike areas, I think these men, by the letter of the law, the same letter of the law that tried Lieutenant Calley, are war criminals.

Kerry introduced Hubbard as a former Air Force captain who had spent two years in Vietnam and was wounded in action.
http://www.archive-news.net/Kerry/JK_timeline.html
April 22, 1971
John Kerry, director of the Vietnam Veterans against the War, testified before special session the Senate Foreign Relations Committee for two hours about alleging widespread atrocities by U.S. troops, and the official policies in Vietnam which were illegal, according to international law. He asks the Congressional panel "How do you ask a man to be the last man to die for a mistake?"

"They told the stories at times they had personally raped, cut off ears, cut off heads, taped wires from portable telephones to human genitals and turned up the power, cut off limbs, blown up bodies, randomly shot at civilians, razed villages in fashion reminiscent of Genghis Khan, shot cattle and dogs for fun, poisoned food stocks, and generally ravaged the countryside of South Vietnam in addition to the normal ravage of war, and the normal and very particular ravaging which is done by the applied bombing power of this country."
June 1971
According to an FBI report, Kerry praised Vietnam's communist dictator Ho Chi Minh, comparing him to George Washington.

Earlier, John Kerry introduced Hubbard as a former Air Force captain, who had spent two years in Vietnam and was wounded in action.

At the time, Kerry was serving as the point man for VVAW. The president of the organization, Al Hubbard, claimed to be an Air Force captain who was severely injured during his service in Vietnam, but it was discovered that Hubbard was a sergeant who never served in Vietnam. Hubbard did serve the communist cause, making propaganda trips to Hanoi paid for by the Communist Party USA.
http://www.archive-news.net/Kerry/JK_timeline.html
| | |
| --- | --- |
| Summer 1971 | According to the FBI files, Kerry met with representatives from the North Vietnamese government in Paris in 1971 in an effort to secure the release of captured American prisoners of war. Gerald Nicosia, a Kerry supporter and the author of Home to War: A History of the Vietnam Veterans' Movement, noted that this meeting is documented in redacted FBI files. |
November 12 - 15, 1971
Declassified FBI documents identified John Kerry as having attended a VVAW meeting in Kansas City, Misouri in the house of one of the members. Scot Camil , VVAW Regional Coordinator from Florida was running the meeting. Camil proposed the establishment of "readiness groups" of the "Phoenix type."

VVAW secretly voted on a proposal to kill six pro-war senators, including Republican Strom Thurmond of South Carolina and Democrat John Stennis of Mississippi.

Gerald Nicosia, the historian, told the New York Sun that "Camil was deadly serious, brilliant and highly logical." In his book he reports that "what Camil sketched was so explosive that the coordinators feared lest government agents even hear of it," so they moved their meeting to a Mennonite hall.

There, according to six eyewitnesses interviewed by the Sun, the plan was discussed and voted down, with Mr. Kerry speaking out against it, although there is disagreement about how narrow the margin of defeat was. On the third day of the meeting, Mr. Kerry and three others resigned from their posts as national coordinators of VVAW. Historian Douglas Brinkley says Mr. Kerry told him he quit because of "personality conflicts and differences in political philosophy." Mr. Kerry also told Mr. Brinkley that he was a "no show" in Kansas City.

Kerry later told two historians, Gerald Nicosia and Douglas Brinkley, that he was not there and that he had resigned from the organization before the meeting was held. In March 2004, reliable witnesses came forward and placed John Kerry at the meeting. In 2004, FBI files emerged establishing Kerry's presence in Kansas City. His campaign conceded that Kerry somehow must have forgotten his involvement in the plot to assassinate U.S. senators while still on the executive committee of the VVAW.