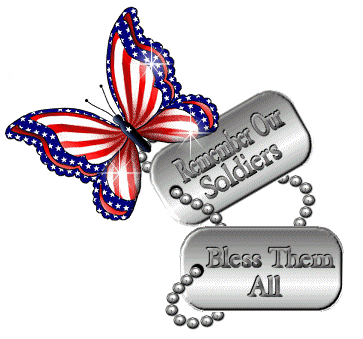 .
F.B.I. To Investigate Disabled PTSD Vet's (Seven Years) Of Corruption And Civil Rights Violation Charges
Against State Of New Jersey
Marine Reserve Captain lost his job with CIRCUIT CITY, because of his military status. Should Circuit City be boycotted, you decide.
Circuit City Contact Information is below.
(Federal Court protects Circuit City's business practices over the rights of a veteran.)
Some
U.S. Department of Labor
Comments are below.
"Trumps the law designed to protect the rights of veterans."
The below story "The Enemy at Home" is a true disgrace against America's veterans. Why federal politicians do
not
step in to support America's veterans' rights is a slap in the face to all America. For almost seven years now, I have been battling a corrupt legal system in New Jersey that protects unscrupulous lawyers over a disabled veteran.
http://www.americans-working-together.com/attorney_ethics/id53.html
New Jersey Governor Jon Corzine does not even answer my certified letters.
----- Original Message -----
The U.S. Fifth Circuit Court of Appeals in New Orleans became the first court to rule that a contract crafted to help employers trumps the law designed to protect the rights of veterans.
-- Time Magazine
---

The Enemy at Home
A federal court ruling callously limits the rights of veterans to sue to get their old jobs back
REYNOLDS HOLDING
June 25 2007
Of all the troubles that U.S. troops may face when they come home, getting their old jobs back should not be one. Uncle Sam supposedly took care of that with a law saying civilians turned soldiers cannot be fired for serving their country—or denied the right to sue in federal court.
Which is why returning veterans should hear the story of Michael Garrett.
http://www.tulanelink.com/tulanelink/veteranabuse_box.htm
Thirteen years ago, Captain Garrett of the U.S. Marine Corps traded his camouflage utility uniform for the business-casual dress of a Circuit City service manager. The electronics company was booming, and Garrett could still get his dose of a soldier's life as a member of the Marine Reserve.
For almost a decade, Garrett ascended the company's ranks. But in October 2002, with war in Iraq near certain, his bosses asked whether he would go on active duty, according to Garrett. He said it was possible, and within weeks, the sniping began: his department took too long with repairs, one boss said, and its work was sometimes shoddy. Then, on March 17—two days before the U.S. invaded Iraq—Garrett got fired.
The company declines to comment, saying only that it "supports the mission and values of the United States Armed Forces." But Garrett says the timing was no coincidence: he lost his job because of his military status. If true, that would violate a 1994 federal law. So Garrett sued Circuit City, only to see it spring yet another surprise.
Garrett, the company said, had to take his case to private arbitration, a quasi-legal process offering sharply limited rights. Garrett acknowledged that his employment contract required arbitration, but he argued that the 1994 act overrode the contract. A federal judge in Dallas agreed in 2004, just before Garrett was activated for a 10-month tour in the Horn of Africa. Last year, though, the U.S. Court of Appeals in New Orleans reversed that decision, becoming the first court to rule that a contract crafted to help employers trumps the law designed to protect the rights of veterans. "That just blows me away," says Garrett, whose case heads for arbitration.
No one knows how many veterans are in a similar bind, but the numbers are substantial—and will grow as more troops return home. Complaints under the 1994 act have increased steadily, to more than 1,500 in 2006 from about 800 in 2001. Some have become lawsuits, and employers may have tried to steer many toward arbitration, since about one-fifth of U.S. companies require the procedure for workplace disputes. In defense of employers, it's not easy reserving jobs for workers called to active duty. But Congress judged that the cost was worth the peace of mind of citizen soldiers willing to sacrifice their time and perhaps lives to the military. Like predecessor statutes dating from 1940, the 1994 act's broad protections rest on the promise of a federal jury trial—with rights to evidence, a fair hearing and an appeal—if an employer fails to comply.
Companies like Circuit City say binding arbitration is faster and cheaper than going to court, though studies have cast doubt on both claims. What really bugs employees are the rights they lose in arbitration—and the apparent bias of arbitrators. There are strict limits on gathering evidence for arbitration hearings, and it is virtually impossible to appeal them. Arbitrators don't necessarily have to follow the law, and studies suggest they favor companies that regularly hire them. Still, the courts generally uphold arbitration clauses unless a law makes absolutely clear that the employee can go to court, arbitration be damned. That pretty much describes the 1994 act, as three federal courts have ruled.
But the magic of law is that even federal judges can give it surprising twists, as the court of appeals judges did in Garrett's case. Sure, they explained, the act says the rights it grants can't be limited. But the judges said that referred to "substantive rights" like the guarantee of a job. Whether such rights are enforced in court or arbitration, the judges thought, is just a matter of process. It's hard to believe, though, that Congress thought a second-class justice system like arbitration was just as good as the federal courts for veterans. As Bob Goodman, Garrett's lawyer, says, "Taking away the Seventh Amendment right to a jury trial is no way to treat the troops." Or to welcome them home.
CIRCUIT CITY CONTACT INFORMATION:
investor_media@circuitcity.com ; PR_Director@circuitcity.com
Inquiry
Contact
Shareholders/Investment Community
Click here to email or call (804) 486-6403
Stockholder Account (Including Address Changes)
Contact your financial advisor or contact our Transfer Agent: Wells Fargo.
To contact Wells Fargo, you may click here or call 1-800-401-1957.
Public Relations

Click here to email
Customer Assistance and Information
Help & Services
1-800-843-2489
Here is the email letter that Circuit City is sending out in response to cover their arse...
Dear XXXXX

Thank you for your feedback regarding Captain Michael Garrett. We hope you can understand that, out of respect for everyone involved, we simply cannot comment on matters that are, or are about to be, in litigation. What we can say is that Circuit City is proud to employ many service members and we support the United States Armed Forces. Thank you for your interest in Circuit City.

Sincerely,

Marty Mitchell
Customer Support Coordinator
Contact ID #1290

U.S. Department of Labor Comments
"Anyone has a USERRA or employment-related issue, we're always just a phone call or an e-mail away."
Being a former employee of VETS I can attest to their willingness to assist any veteran who believes he or she needs veterans reemployment rights assistance. Regards: Paul (Alamogordo, NM).
----- Original Message -----
Sent: Friday, August 17, 2007 10:37 AM
Subject: RE: Veterans Reemployment Rights
The comments about Garrett are issue-specific, and may not be of value to the general public. The principals affected by the Garrett case are all pretty familiar with the issues involved, and it is important to remember that any precedent set in that case is limited to the territory covered by the 5th Circuit.
Please note that national and local VETS staff are available to provide USERRA briefings specifically tailored to audience needs. Since 9/11/2001, we have provided USERRA briefings and technical assistance to more than 600,000 members of Guard and Reserve units, attorneys, HR specialists, corporate executives, government officials, professional associations, and the general public.
Anyone has a USERRA or employment-related issue, we're always just a phone call or an e-mail away.
Thanks again for your interest and support.
Sincerely,
----- Original Message -----
Sent: Wednesday, August 15, 2007 1:49 PM
Subject: RE: Veterans Reemployment Rights
Dear Mr. Balaich:
If you know of a service member (or veteran) who is alleging that his or her reemployment rights have been violated, s/he may wish to file a formal complaint with VETS. In 1994, the President signed into law the Uniformed Services Employment and Reemployment Rights Act of 1994 (USERRA), 38 U.S.C. 4301-4334. USERRA supersedes and clarifies reemployment protections that were offered in its predecessor statute, the Veterans Reemployment Rights Act (VRRA) (then codified at 38 U.S.C., Chapter 43). For convenience, we now have an electronic complaint form, the VETS e1010, available on our website at: www.dol.gov/vets. The e1010 can be accessed via our USERRA elaws Advisor, and may be completed AND submitted online without the need to download, print, and mail a signed copy to the local VETS field office.
If the matter at issue concerns the case of Garrett v. Circuit City, please note that we are well acquainted with that case. Mr. Garrett filed and won at the U.S. District Court level, and we cited that case in our final USERRA regulations as an example of how USERRA supersedes any contrary contracts, arbitration agreements, or other local laws that would otherwise diminish or lessen protections USERRA affords. Unfortunately, Circuit City appealed that decision, and prevailed at the 5th Circuit Court of Appeals. As a Federal court has ruled against Mr. Garrett, and as he did not request either an en banc hearing or otherwise appeal to the United States Supreme Court, there is little that we would be able to do to help him at this time. Mr. Garrett had not complained to or contacted VETS prior to initiating his lawsuit against Circuit City.
If you know of other individuals whom you think could benefit from our assistance, please do not hesitate to offer them our contact information. As always, we are just an e-mail or telephone call away.
Thank you for your service to our nation and to VETS.
Sincerely,
Wm. Kenan Torrans
Veterans' Employment and Training Service www.dol.gov/vets
U.S. Department of Labor
200 Constitution Avenue, NW
Washington, D.C. 20210
202.693.4731 direct
Navy Petty Officer Mike Monsoor
WHY WASN'T THIS ON THE FRONT PAGE NEWS?
.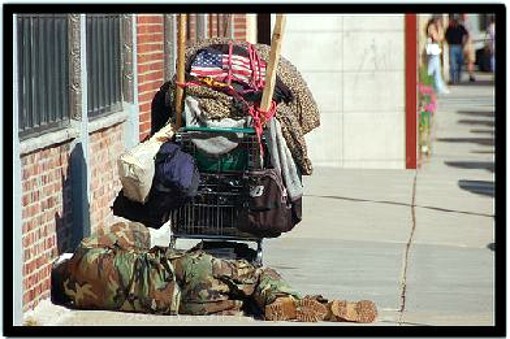 Is America turning her back on her veterans?
DURING THE VIETNAM WAR, AMERICANS LIVED AND SERVED (24/7) WITHIN VIETNAMESE VILLAGES. FEW AMERICANS BACK HOME EVER HEARD OF THESE MILITARY TEAMS, BECAUSE THE AMERICAN NEWS MEDIA WAS NOT INTO TELLING POSITIVE, TRUTHFUL STORIES OF THOSE SERVING HONORABLY FOR AMERICA. IT'S PRETTY MUCH THE SAME TODAY WITH THE AMERICAN NEWS MEDIA.

BELOW IS AN ARTICLE ABOUT ONE OF THESE MILITARY TEAMS IN VIETNAM. THE COMBINED ACTION PROGRAM (CAP) WAS SUCH A SUCCESS DURING THE VIETNAM WAR, THIS UNITED STATES MARINE CORPS' UNIT WAS REACTIVATED FOR OUR CURRENT WAR ON TERRORISM.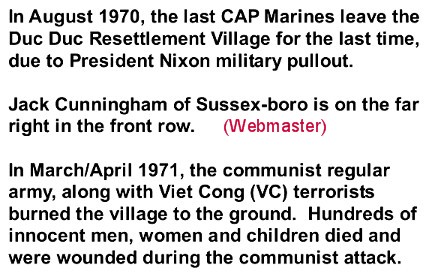 In Vietnam, It Was Nicknamed "The Peace Corps Volunteers With Rifles."
Anyone familiar with the
Combined Action Platoons
of the Vietnam War will understand what's going on here (In Iraq today). These Marines live, work, sleep, eat and bathe in the same neighborhoods they are helping to stabilize. In doing so, they're no longer driving in from a forward operating base, or FOB, outside the city and conducting patrols. Instead, they wake up in the morning, plan a patrol, then walk out into the neighborhood and greet the men and women sweeping their sidewalks or tending their shops. They're literally swarmed with children wanting a high five or a piece of chocolate. They visit schools, markets and local infrastructure projects to see how things are going. There are no interrogations or mean faces, just a neighborly walk through their district to check on the locals who sometimes know them by name.
Below are two links to some articles about the Marine Corps' Civil Action Programs
I served on a CAP Team in the Duc Duc Refugee Village. Sometimes, we only had four (4) Americans in a village of 2,000 homes.
.
~ WATCH YOUR ASS, MARINE! ~
HOLLYWOOD NEWS: Oliver Stone recruits Bruce Willis for My Lai massacre film
A Recovering American Soldier
c/o Walter Reed Army Medical Center
6900 Georgia Ave NW
Washington, D.C. 20307-5001
Supporting our military and veterans is not about politics.
It's about respect, honor and appreciation.
The USO is a great organization.
Jack
PTSD Veteran Support· War_Zone_Related_Stress_Reactions