Below is the opening to a letter, a friend of mine received from Jon Corzine as he was running for Governor of New Jersey.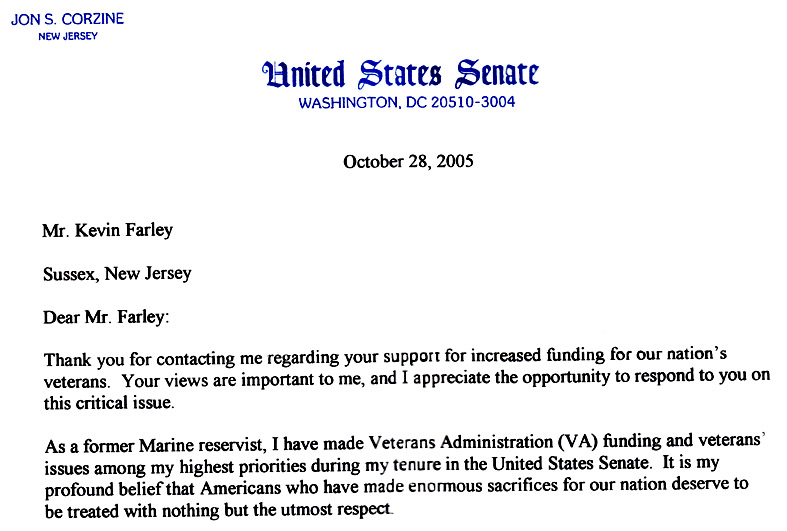 About a week after Jon Corzine sent this letter, he was elected Governor of New Jersey.
Jon Stevens Corzine (born January 1, 1947) is the current Democratic Governor of the state of New Jersey. He was sworn into office on January 17, 2006, for a four-year term ending in 2010. He resides in Hoboken. He represented New Jersey in the United States Senate from 2001 until 2006, when he stepped down to take his seat as Governor.
After reading Govornor Corzine's letter, one would believe that he is an advocate of Veterans' rights. However, it is the farthest thing from the truth. Governor Corzine is just as dedicated to Veterans rights as he is on fighting state government corruption, which was his main campaign promise. (Recently, Corzine's NJ Attorney General Zulima Farber, who he appointed himself against the recommendation of many state officials, had to resign due to her own corruption.)
My personal experiences with Jon Corzine, since he has been Governor of New Jersey, proves that he is a hypocrite in both his claim of being a Veterans advocate as well as a state corruption fighter.
Details of my corruption battle with New Jersey State Government are below.

Gov. Jon Corzine has received the same evidence as US Senator Frank Lautenberg and US Senator Robert Menendez. Yet, these two federal senators are already supporting me in my request for an investigation. However, they have no power over Gov. Corzine.

Governor Corzine has received six U.S. mail letters (three certified) and over thirty emails on this subject with attached evidence, but his office has not returned any communications. Please call his office and ask his aid Susan, why she does not return my phone calls and why her staff refuses to give me her last name. There are two Susan's, who work in Corzine's Office.

Susan Prickett 609-777-2463

Susan Senft 609-777-2645
Please tell Governor Corzine and his aid Susan that you support Disabled Vietnam Veteran Jack Cunningham's civil rights, especially his rights in Due Process. There should be an immediate New Jersey State investigation into Jack's New Jersey State corruption charges.
Being more interested in preventing damage to its public, professional and national image, Governor Jon Corzine and the State of New Jersey openly chooses to violate my civil right to due process. At the center of this storm is the New Jersey Supreme Court's Office of Attorney Ethics.
Considering the power the Office of Attorney Ethics wields around the state, simple committee members can easily deflect legal malpractice controversies away from their law firms. My evidence is clear how Vice-Chairman Robert Correale and his law Firm; Maynard & Truland of Morris and Sussex Counties New Jersey were able to use their tremendous influence and power to their advantage in both a New Jersey Supreme Court Office of Attorney Ethics investigation as well as a civil case for Legal Malpractice.
In December 2000, I first started complaining about Maynard & Truland's ethics problems to New Jersey's Supreme Court Office of Attorney Ethics. I wrote to their District X Ethics Committee that covers both Morris and Sussex Counties of New Jersey. My letter, and the evidence, I attached to it, were clear about this Law Firm's ongoing ethics violations. However, I got no where, since Maynard & Truland attorney, Vice-Chairman Robert Correale was the Vice-Chairman of that same committee.
It turned out that General-practice attorney Robert Correale was Vice-Chairman of the New Jersey Office of Attorney Ethics, when an important Superior Court Transcript went missing before it could be typed by a court reporter.
Besides openly committing perjury to NJ Supreme Court, Robert Correale went on to commit a number of ethics violations on his own.

False billing and Overcharging are just two of these ethics violations.
Please visit the next link to read some of my clear and easy to understand evidence.
I'm still going after New Jersey political corruption. It's been six years now.
I can sure use some help calling Senator Robert Menendez (Debbie Curto 973-645-3192), Senator Frank Lautenberg (Jen Mroczek 973-639-8700) and Governor Jon Corzine (Susan Prickett 609-777-2463, Susan Senft 609-777-2645). I just want the State of New Jersey and Department of Justice (DOJ) to start investigations on my civil rights and corruption charges, and clear evidence.
If my charges are false, they can throw me into prison for False Charges. Senator Frank Lautenberg and Senator Robert Menendez verbally support me on my request for investigations, but they do not put anything in writing. They have been working on this crap since early May and have produced no results. Corzine, Lautenberg and Menendez are just playing games with me so that I go away. (I'm not.)
Jack Cunningham
Navy Petty Officer Mike Monsoor
WHY WASN'T THIS ON THE FRONT PAGE NEWS?
.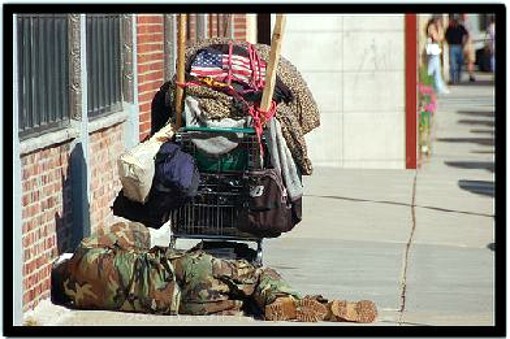 Is America turning her back on her veterans?
DURING THE VIETNAM WAR, AMERICANS LIVED AND SERVED (24/7) WITHIN VIETNAMESE VILLAGES. FEW AMERICANS BACK HOME EVER HEARD OF THESE MILITARY TEAMS, BECAUSE THE AMERICAN NEWS MEDIA WAS NOT INTO TELLING POSITIVE, TRUTHFUL STORIES OF THOSE SERVING HONORABLY FOR AMERICA. IT'S PRETTY MUCH THE SAME TODAY WITH THE AMERICAN NEWS MEDIA.

BELOW IS AN ARTICLE ABOUT ONE OF THESE MILITARY TEAMS IN VIETNAM. THE COMBINED ACTION PROGRAM (CAP) WAS SUCH A SUCCESS DURING THE VIETNAM WAR, THIS UNITED STATES MARINE CORPS' UNIT WAS REACTIVATED FOR OUR CURRENT WAR ON TERRORISM.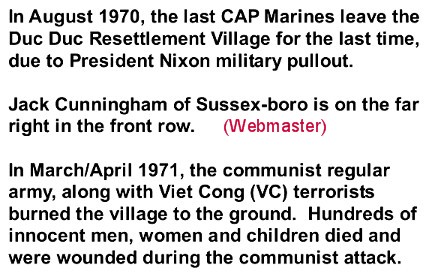 In Vietnam, It Was Nicknamed "The Peace Corps Volunteers With Rifles."
Anyone familiar with the
Combined Action Platoons
of the Vietnam War will understand what's going on here (In Iraq today). These Marines live, work, sleep, eat and bathe in the same neighborhoods they are helping to stabilize. In doing so, they're no longer driving in from a forward operating base, or FOB, outside the city and conducting patrols. Instead, they wake up in the morning, plan a patrol, then walk out into the neighborhood and greet the men and women sweeping their sidewalks or tending their shops. They're literally swarmed with children wanting a high five or a piece of chocolate. They visit schools, markets and local infrastructure projects to see how things are going. There are no interrogations or mean faces, just a neighborly walk through their district to check on the locals who sometimes know them by name.
Below are two links to some articles about the Marine Corps' Civil Action Programs
I served on a CAP Team in the Duc Duc Refugee Village. Sometimes, we only had four (4) Americans in a village of 2,000 homes.
.
~ WATCH YOUR ASS, MARINE! ~
HOLLYWOOD NEWS: Oliver Stone recruits Bruce Willis for My Lai massacre film
A Recovering American Soldier
c/o Walter Reed Army Medical Center
6900 Georgia Ave NW
Washington, D.C. 20307-5001
Supporting our military and veterans is not about politics.
It's about respect, honor and appreciation.
The USO is a great organization.
Jack
PTSD Veteran Support· War_Zone_Related_Stress_Reactions