THE HISTORY OF THE USMC AT AN HOA PART ONE 1966-67
By
Alan Waugh alan@graphicbikeart.com
http://www.graphicbikeart.com/vietnam2.htm
I have spent the last five years researching the history of An Hoa combat base and its surrounding area of operation. Using Marine Corps After-Action reports and command chronologies I have written the only compete history of this Combat Base. I furthermore had the input of Marine Veterans who served in the An Hoa TAOR which included the coal mines at Nong Son which is a place many knew as 'Antenna Valley'. My contributors range from Colonels to Grunts and the stories they have provided for my Scuttle Butt Section (Scuttle Butt is Marine term for gossip) have been varied. Some of the subjects covered have been the art of C-Ration cooking, the M-14 and the change to the M-16 and the loss of good friends due to action.
I had great fortune to be tracked down by Le Thuc Can who was the Vietnamese director of the An Hoa industrial complex. The complex was the reason why the USMC had come into the An Hoa Basin. I have also been indebted to George D Navadel Col USMC Retired who acted as my military advisor checking my work to ensure it was put over correctly. George was also a Company Commander of I/3/9 and had served in the An Hoa basin in 1966. The project has also had input from Dale Dye who you all know through his work as a military advisor to Hollywood. Dale's work includes Saving Private Ryan, Band of Brothers, Platoon and many more block-busting movies. Dale had been a combat correspondent with the USMC and visited An Hoa many times during his tour in Vietnam.
But without the help of many ordinary Marines who did their duty and returned to America, this history would not have been complete. Many have joined the An Hoa Project to give stories and accounts of their time in the hot rice fields and jungles of Quang Nam province. Several climbed on chairs and from the top of their wardrobes brought down an old shoe box full of faded photos of their tour in what they would call 'The Nam'. They searched their memories and wrote down their reflections of a time when they were young over forty years ago. For many it has been a cathartic experience as they face their ghosts of lost comrades and past combat. For me this has been the most rewarding part of the project.
The History of the USMC at An Hoa is a multi-media CD-ROM which contains 282 pages of the day-to-day life of Marines in Vietnam. There are 228 photos, the majority of which have never been seen before as they have come from the Marines' own private collections. Four short movies are included on the CD, one of which is rare footage of An Hoa taken by Bill Gavin who served with Golf/2/5 in 1967. The reminder of loss is also on the CD as I list every Marine killed in action in Quang Nam for the years 1966-67 on a searchable database. In some cases there are photos of the fallen to accompany names. A name with a face is a stark reminder that he is someone's loved one. All of them had hopes, dreams and fears. And it is for both the living and the dead that this project is dedicated.
To see a preview or to order the An Hoa history CD log on to my website on http://www.graphicbikeart.com/vietnam2.htm
or email me for details of the project alan@graphicbikeart.com
I helped Alan with this project. He has been on the web site www.thevietnamfiles.com nearly every day for over a year.
Thanks.
David Prendergast
--------------------------------------------
BELOW IS A RECENT SATELLITE PICTURE OF THE AN HOA / DUC DUC AREA IN VIETNAM.
PRESS FOR A LARGER COPY
PRESS FOR A LARGER COPY
Learn the details, see the maps and pictures, and read the newspaper articles of what happened to the valley in 1971 at: http://www.americans-working-together.com/id222.html
John "Jack" Cunningham
The experiences of a Combined Action Program (CAP) Marine in the AN HOA / DUC DUC area of Vietnam.
Taken from the Vietnam War-Almanac .
General Editor; Mr. John S. Bowman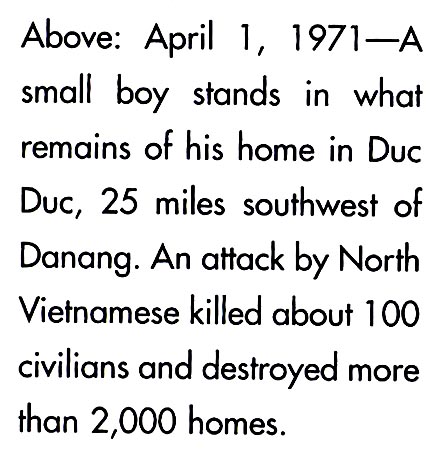 Learn more details, see the maps and pictures, and read the newspaper articles of what happened to the valley in 1971 at: http://www.americans-working-together.com/id222.html
----------------
"In the darkest of moments, one man inspired a team, a country, yes, even the world."