SOME THINGS IN LIFE ARE WORTH FIGHTING FOR
(Yet some people would NEVER understand it...)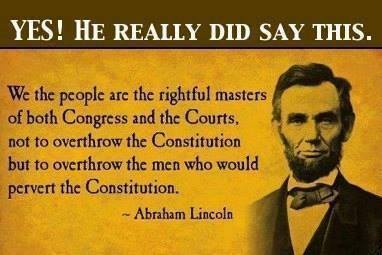 Decorated Vietnam Veteran Jack Cunningham's New Jersey Supreme Court's cover up case here is extremely interesting.
Statute of limitations issue here is bogus… fraud has no limitation in federal court, and Statute of limitations runs from the time the fraud is found… It is an act to deceive, an act of fraud, an act to manipulate due process, - sanctions should be implemented – One of many cases spell this out… Referring both to the objective and subjective elements, we have held that qualified immunity would be defeated if an official "knew or reasonably should have known that the action he took within his sphere of official responsibility would violate the constitutional rights of the [plaintiff], or if he took the action with the malicious intention to cause a deprivation of constitutional rights or other injury." Harlow et al v. Fitzgerald, 457 U.S. 800; 102 S. Ct. 2727; 73 L. Ed. 2d 396; (1982). (Emphasis added)
(The fact that Jack Cunningham is a decorated, combat Vietnam Marine veteran with Post Traumatic Stress Disorder makes this even more interesting.)
Was it a New Jersey Supreme Court mistake? Or was there a more sinister motive...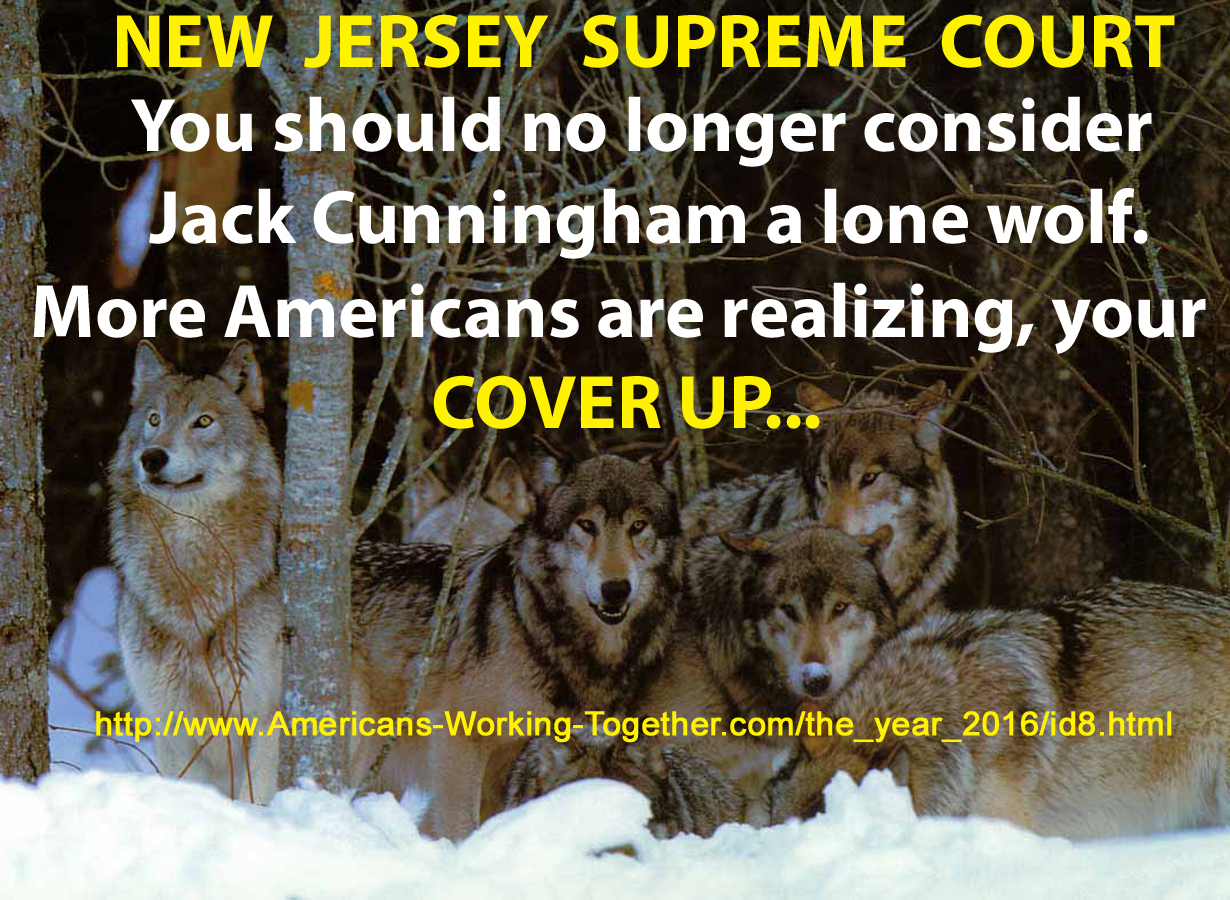 New Jersey's Supreme Court Office of Attorney Ethics is the investigative and prosecutorial agency for New Jersey in discharging the Court's constitutional responsibility to supervise and discipline all state attorneys. There are 18 district ethics committees throughout the state and each committee is controlled by a chairman and vice-chairman. To be a local practicing attorney on one of these district committees should carry a great deal of influence both locally and state-wide. To be the actual chairman and vice-chairman carries tremendous responsibility and even more influence.
When attorney ethics violations are bought against an attorney, the complaint is assigned to the attorney's local, Supreme Court's ethics committee for review. If ethics violations happen to be brought against a practicing attorney, who is also a member of his or her local committee, special handling takes place by the Supreme Court Director of Attorney Ethics to avoid a conflict of interest.
When a client filed ethics violations against his former attorney Robert Correale, who happened to be on his local ethics committee, the state Supreme Court agency's Director assigned the primary investigation to someone he was sure would assign it properly. Robert Correale's law firm, Maynard & Truland's website CLEARLY listed Robert Correale as not only a member, but the Vice-Chairman of District X Attorney Ethics committee. (See below website page)
Now, before I post the Attorney Ethics Committee that Deputy Ethics Counsel John McGill III assigned the Robert Correale case to, I'm listing some details how these same legal malpractice charges were handled by the nearby New Jersey Superior Court. Remember, how I mentioned above, how much local influence these attorney ethics committee members enjoy.
"The Maynard & Truland law firm brought to Superior Court a case against Jack Cunningham for an open $2,000 bill. During the case, powerful and influential, Supreme Court Attorney Ethics official Robert Correale represented himself and his own law firm, Maynard & Truland. I represented myself, since no New Jersey lawyer wanted to take the case without big money up front. My legal malpractice complaints started with Robert Correale's and his law firm's gross negligence, over-charging per hour, false billing, lack of communications, coming to court unprepared and perjury. My evidence was extensive, yet simple. Evidence was Maynard & Truland's own contract, their own invoices, court-filed letters, court-filed documents, federal Veterans Affairs medical records, etc.
Nothing was resolved during arbitration. But back in the courtroom, Honorable Superior Court Judge Ronald Graves announced that he had reviewed my detailed evidence. He threw out Robert Correale's law firm open bill case and then, against the objection of Correale, stated that my charges of legal malpractice warranted the Superior Court Law Division for damages. Months later, when I brought the case to the Law Division, Judges Graves court transcript could not be used as merit, because the court clerk's only copy of the audio transcript was mysteriously missing and could not be transcribed."
Around the time, Superior Court Honorable Judge Ronald Graves reviewed Jack Cunningham's evidence and ruled that his legal malpractice case warranted the Superior Court Law Division for damages, Attorney Ethics Committee Deputy Ethics Counsel John McGill III assigned Robert Correale and his law firm, Maynard & Truland ethics case to ROBERT CORREALE'S OWN DISTRICT X ETHICS COMMITTEE. (See Deputy Ethics Counsel John McGill III below letter)
Was this a joke? Was it a mistake? Or was there a more sinister motive... How can a New Jersey Supreme Court Attorney Ethics official be found guilty of Attorney Ethics? (The state and national image of NJ Attorney Ethics was at stake.)
The client, Jack Cunningham, who was bringing the attorney ethics charges, was completely dumbfounded. He did not have a law degree, but he completely understood, how much of a Conflict of Interest this was, if it went through. Conflict of Interest charges were probably some of the most common violations the Office Of Attorney Ethics had to investigate. Now, Supreme Court Deputy Ethics Counsel John McGill, III was creating a huge one of his own. Cunningham was wondering if anyone else saw the conflict. But based on the amount of attorney ethics officials who were receiving McGill's assignment letter, which was only the secretary of District X Bonnie C. Frost, Esq., the thoughts of a cover up soon entered Cunningham's mind. (See McGill's below letter)
There can't be a cover up. It's to plain and simple, he thought. The New Jersey Supreme Court would never do such a thing. These were professional state attorneys.
It was around this time, when Jack Cunningham was informed about the missing Superior Court transcript of Judge Ronald Graves. How can a Superior Court transcript go missing, before it could be typed? This can't be really happening.
Everything started to come together. Robert Correale and his law firm, Maynard & Truland had some extremely powerful friends in some extremely high places. No wonder the law firm was able to act above the law. Ethics meant nothing to them. Robert Correale was Maynard & Truland's ACE-IN-THE-HOLE.
How could they do this to an honorable vet... a Vietnam veteran. A Purple Heart. Wounded three times, living in a Vietnam peasant-village for this, Jack wondered. It was a continuation of Vietnam vets' home coming. Nothing had changed. The stigma of being a Vietnam vet was just as real today as it was in the 70's and 80's. The Hollywood image of troubled, rage-driven Vietnam vets still lingered. (Rambo's four movies was just part of it.)
The decorated, combat Marine veteran, Jack Cunningham knew the battle for Justice would be getting worse. His PTSD was already kicking his ass. Jack knew he was no psychic, but he knew that they would try to use the image of a "Fucked up war vet" in court papers. It was just a matter of time. (And sadly and disgracefully, Jack would be right on this a couple of times. The first time would be in sworn, Supreme Court filed attorney certifications. And the second time would be in Superior Court Appellate Division documents. Clear evidence will soon follow.)
He was fighting alone again. Just like he was fighting alone back on the knoll outside his village. WHY... Jack did not feel, he could continue.
Already bringing up the saga numerous times to fellow PTSD Vietnam veterans in his Veteran Affairs (VA) therapy group, Cunningham supplied the latest update of the NJ Supreme Court conflict of interest. Overwhelmingly, his fellow PTSD vets felt that he should not give up. Some vets even went so far as saying that the state of New Jersey was only trying such an open conflict of interest, because Jack had PTSD and would give up eventually. This rang a bell for Jack, because he was already thinking this same thing. "They are dragging this out, because they want me to go away and give up," he told his wife and five children. One of Jack's older children felt that Jack should not give up because no one, even if he or she had no PTSD, should be denied their Due Process. "You are fighting for more than just PTSD vets. You are fighting for everyone. Bring these crooks to justice. Don't let them get away with this"
It's been 13 years now and proud Vietnam vet Jack Cunningham still has not given up to bring justice to Robert Correale, his former law firm, Maynard & Truland, NJ Supreme Court Office of Attorney Ethics and every other New Jersey State government official, who have protected them.
After listening to his fellow PTSD vets, his family and friends, Cunningham started a phone and letter writing campaign to the New Jersey Governor, the Director of Attorney Ethics David E. Johnson, Deputy John McGill III and New Jersey's Attorney General Regina M. Garb. By phone, Governor McGreevey's secretary and Attorney General Regina Garb's staff insisted that Jack Cunningham deal directly with the Director David E. Johnson and his Deputy McGill, however neither one returned phone calls. You can read his first letter to Deputy Counsel McGill below. For weeks, Cunningham continued to write letters and call the governor's office, the NJ Attorney General and the Office of Attorney Ethics officials. Finally, after a month, the Supreme Court office sent a letter that admitted to a Conflict of Interest and transferred the investigation away from Correale's responsibility and supervision to a nearby committee. (See their letter below)
More details of the cover up will soon be posted on this webpage. The cover up even gets more interesting as more New Jersey government officials get involved. There is much more of easy to understand and clear evidence that will be posted on this page. One letter that leads all the way up to each of the New Jersey Supreme Court Justices...
On 2/25/2016, Jack Cunningham was notified by a veterans support foundation that he no longer has to handle his charges himself (PRO SE). The veterans support foundation was connecting him to PRO BONO attorneys in order to bring his charges to federal court. Hopefully in the future, Jack will be allowed to announce the name of the veterans support foundation in order to give them the proper credit for their support.
If after you read this webpage (and some evidence), you recognize the in-Justice for yourself, please help Jack Cunningham in getting a news story on this. Since he is going after the State of New Jersey's Supreme Court Office of Attorney Ethics, this proud Vietnam veteran needs all the help he can muster.
Since Jack lives in the New York City area, please email the New York Post to request a story on his New Jersey Corruption saga: Tips@nypost.com
Please email Jack at: ProudVietnamVeteran@earthlink.net
Just below is a copy of the law firm Maynard & Truland webpage for Robert Correale. Soon after this was copied, the page was removed from the internet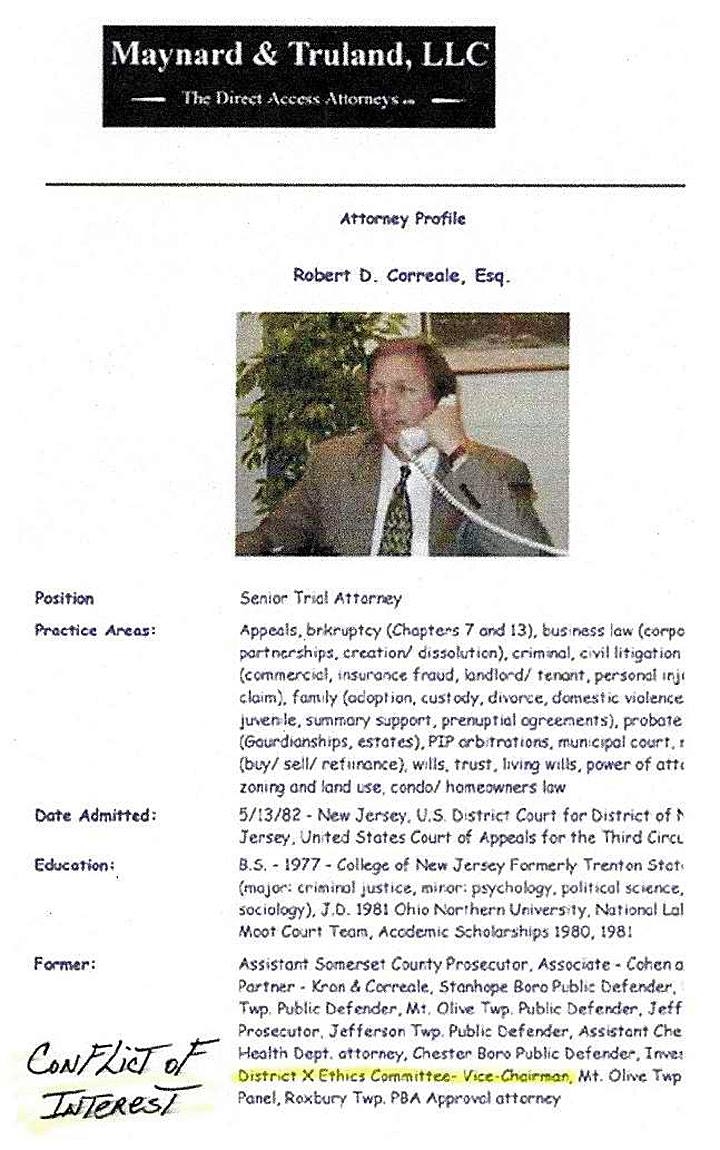 Below is a copy of the letter that assigns Robert Correale and his law firm's ethics investigation back to his own NJ Supreme Court Attorney Ethics committee District X.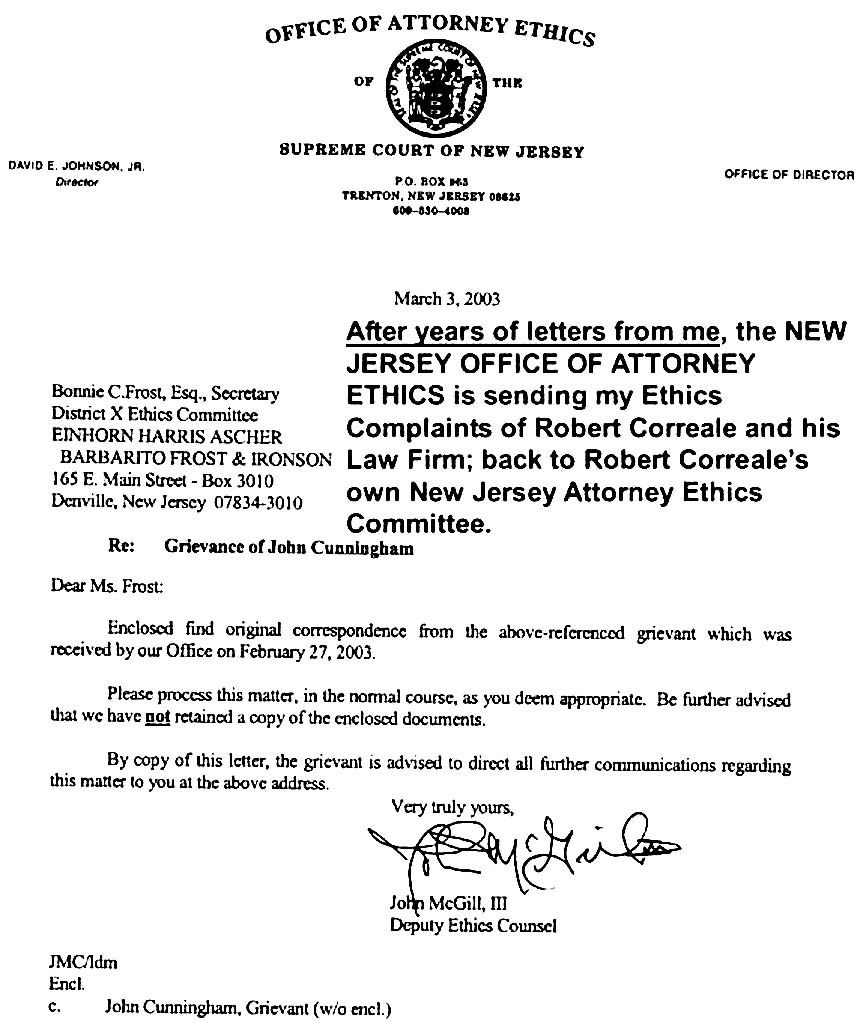 Below is a copy of Jack Cunningham's first letter after Deputy Counsel McGill assigned Correale's investigation to his own committee. Notice the officials who Cunningham sent copies to.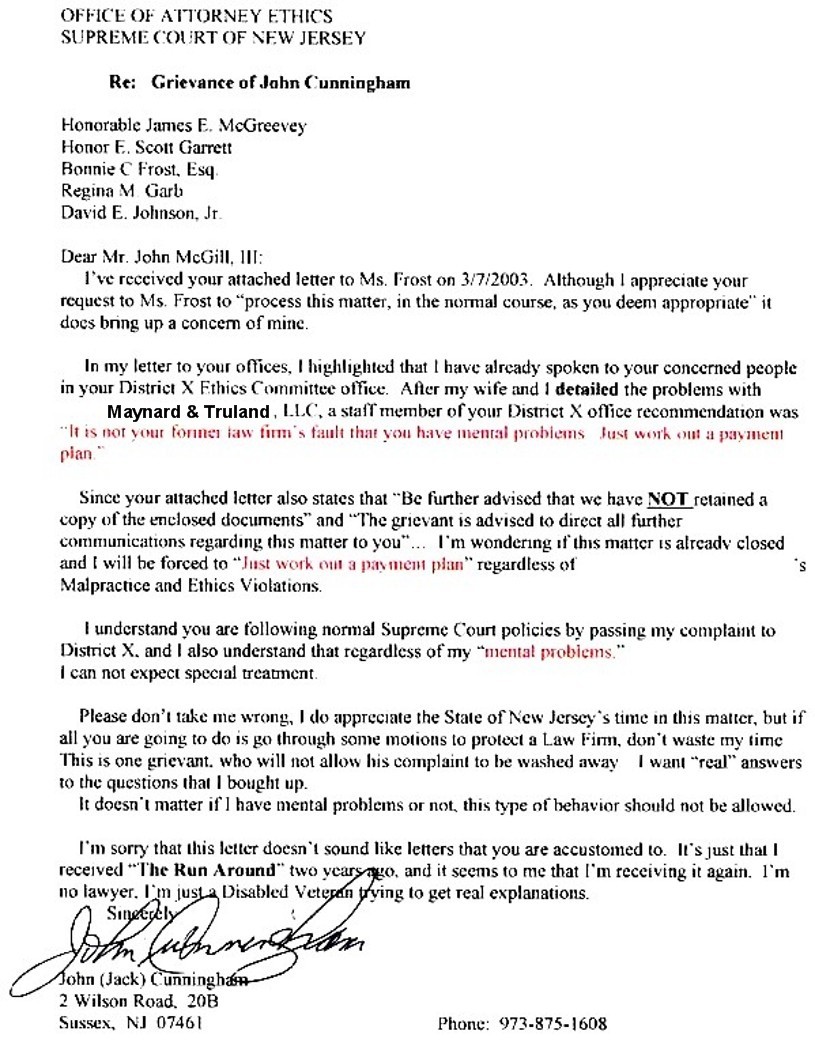 Below is the New Jersey Supreme Court Office of Attorney Ethics' letter finally admitting that Robert Correale is a member of Attorney Ethics District X and that there would be a Conflict of Interest if his own committee investigated him and his law firm, Maynard & Truland.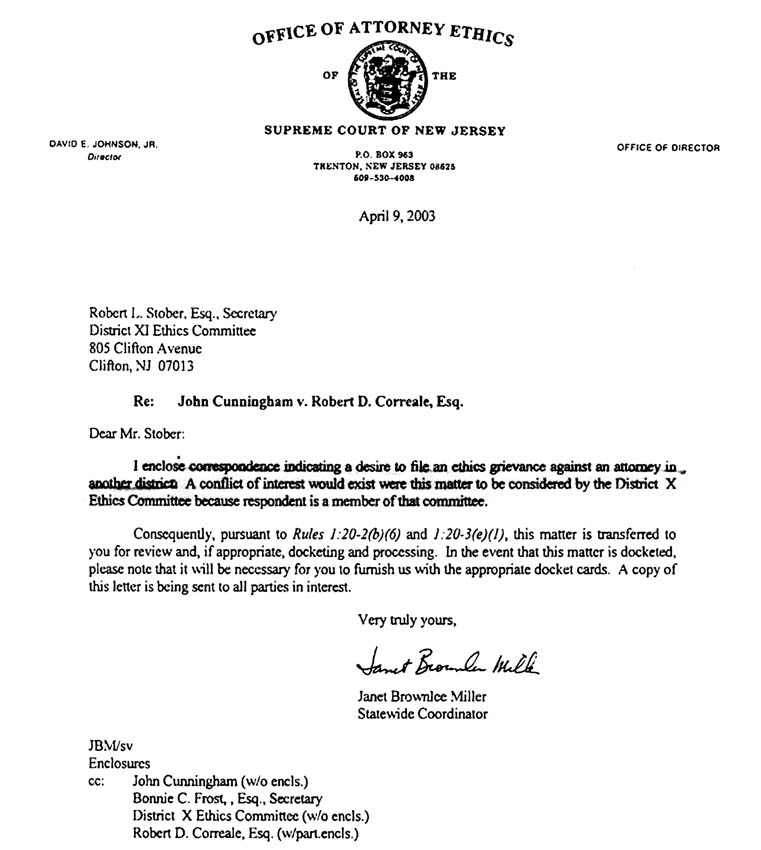 Below letter: Three years into the battle, although a great deal of evidence was sent to the Office of Attorney Ethics that the complaint was about Robert Correale a member and possibly the Vice-Chairman of District X, the Office of Attorney Ethics was still insisting that his own District X committee do the investigation on him and the Maynard & Truland law firm.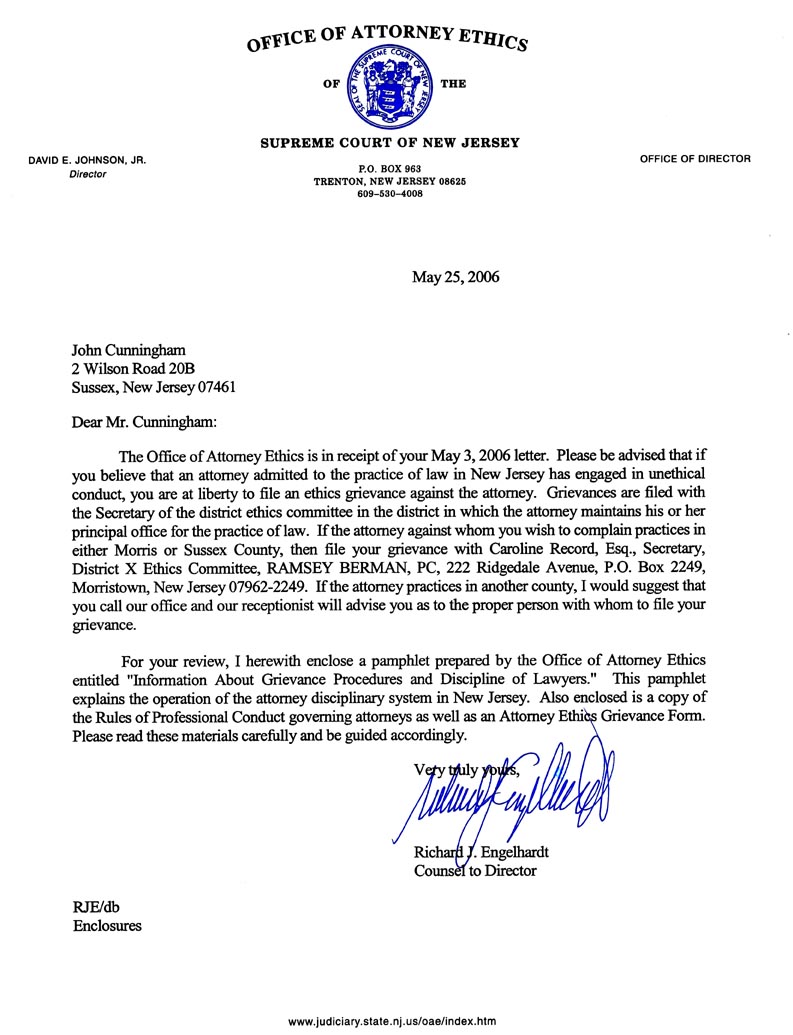 Six years into the battle to get Jack Cunningham his Due Process from New Jersey's Supreme Court, Jack's state senator attempts to get answers from THEM. Please notice the senator's list of who received carbon copies of his letter. This was the senator's second attempt to get some answers. His first attempt went unanswered. Now, this is not a PTSD vet trying to get answers about Robert Correale. This is an elected state senator. (Every member of the New Jersey Supreme Court)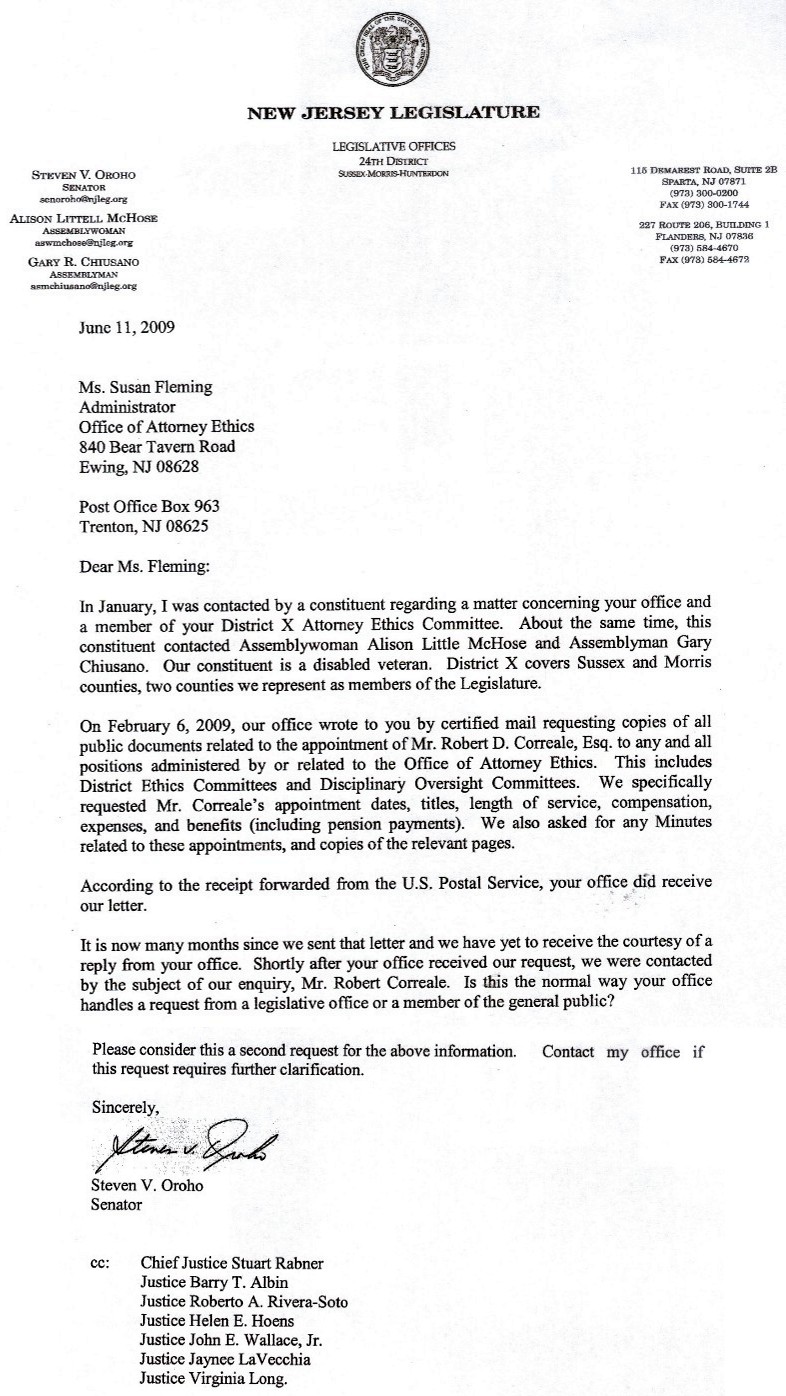 Below is an attempt by New Jersey Supreme Court Office of Attorney Ethics official Robert Correale to mock his former client Jack Cunningham's PTSD in formal, sworn Certifications to the Supreme Court. Cunningham supplied a great deal of evidence like Correale's law firm Contract, Invoices, federal Veterans Affairs (VA) medical records, court filed documents, letters and statements, etc. to his attorney ethics complaint. Correale and his fellow Maynard & Truland attorneys' Certifications were filled with perjury, misleading and vague statements and had no supporting documentations or evidence with the Certifications. This lame attempt to mock Cunningham only motivated him more to bring Justice to Robert Correale, his law firm Maynard & Truland and those in New Jersey State government who protected them. However, this lame, simple attempt to mock Jack Cunningham helped him and his fellow Maynard & Truland bypass Justice.