Vandals deface veterans memorial in California
Vandals desecrated a memorial to war veterans in Stockton, Calif. sometime in the past week by taking a can of black spray paint to the black marble memorial, photos show.
Fox 40 reported that much of the area around the memorial has been defaced, including a nearby firefighters' memorial.
"I think it's terrible that they put graffiti on any of the memorials, but especially veterans," John Bayley, a Vietnam-era Air Force veteran said. "There are people that've lost their lives fighting for our country."
Authorities are asking that anyone with knowledge of the incident call a graffiti hotline: (209) 937-8040.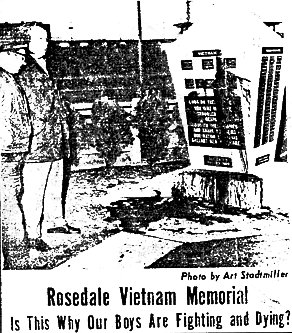 HOW VIETNAM VETERANS WERE TREATED
This is How Those, Who Served Honorably, During The Vietnam War, Were Treated...
In April 1970, the names of the town's war dead were attacked and covered in tar and black paint twice during the same month.
Rosedale, NYC (The Vietnam Memorial is still there on Sunrise Highway across from the Rosedale Long Island Railroad Station.)
At the time, I was living and serving (24/7) in a Vietnamese peasant-farming village, when I received both sets of news clippings from the Long Island Press.
I swore to myself the guilty would never get away with this. I was wrong... They got away with it during, and after, the Vietnam War. And Americans' silence toward this disgraceful treatment was deafening...
John "Jack" Cunningham
Rosedale, NYC
The picture below is from the second tar and black paint attack on the same Rosedale Vietnam Veterans Memorial. Please notice the two different impacts of disgrace.

Tar, black paint, spit, eggs and even urine could not stop the selfless, patriotic spirit of America's proud and honorable Vietnam veterans.
Vietnam vets did a great job making sure, what happened to them, never happened to another generation of vets again.