Democrat Senator Now Has A 17% Lead. I made a mistake. I'm sorry...
I mean Independent Candidate, Senator Joe Lieberman has a 17% lead in the polls.
NEW YORK POST http://www.NYPOST.com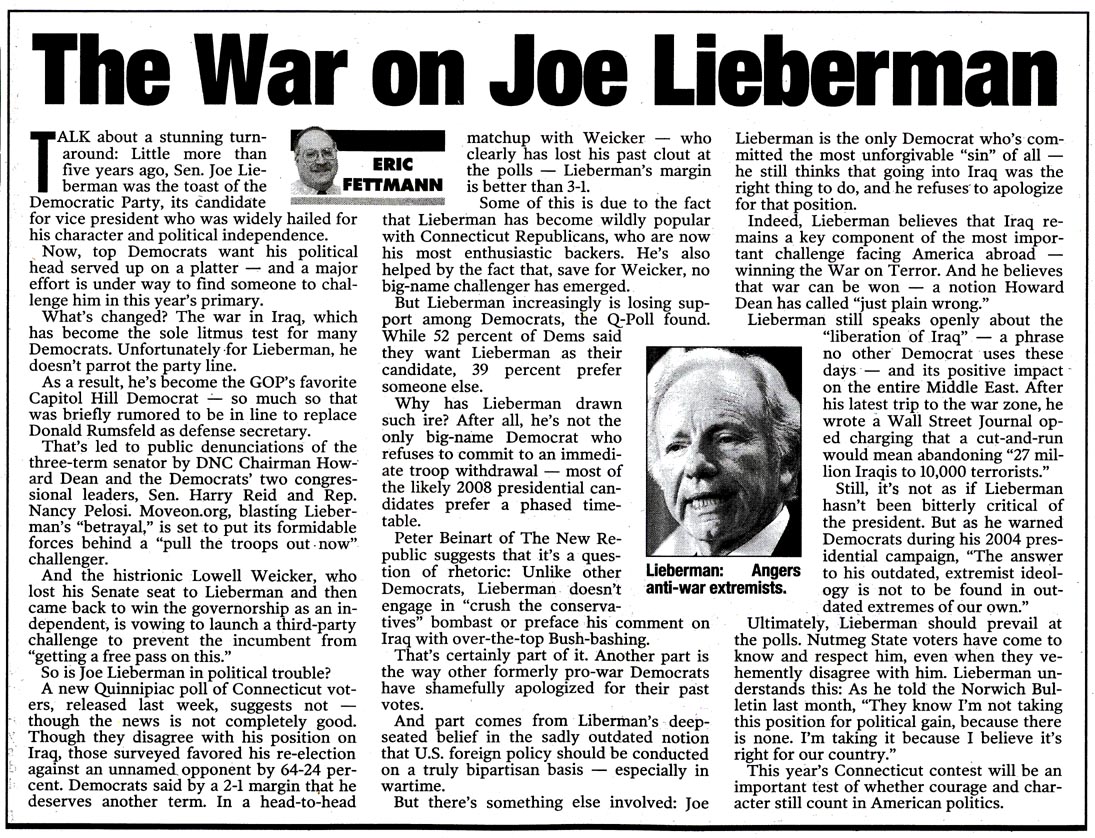 ~ JOE LIEBERMAN JUST RETURNED FROM HIS FOURTH TRIP TO IRAQ (In his own words.)
THE BELOW ARTICLE COMES FROM THE NEW YORK POST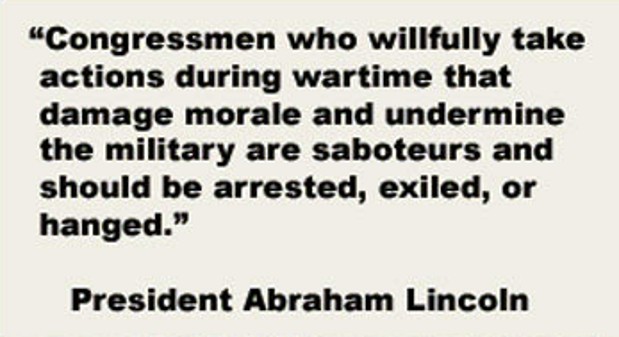 THREE AND A HALF YEARS OF DEFEATISM IN CONGRESS
SENATOR JOHN KERRY'S MILITARY DISCHARGE - THE JIMMY CARTER LEGACY CONTINUES
(It's not about what John Kerry did while serving in Vietnam. It's about what Kerry said, and did after.)
American Liberals are like teenagers, who act childish. They think that they know everything, and they play silly games to get their way! They are not interested in facts... And they can't understand, when you don't believe them.
And they shout and cry, when they do not get their way.
Please press the below picture, if you feel (Or you are still not sure) that Congressman Jack Murtha should retire from Congress. Thirty years holding the same seat in Congress, brings too much old power and old control in a Congressionial voting district. This is one incumbent, who needs to be replaced this November. Not because of his age, but because of his views on America are stuck in the 1960s.
This is today... with today's and tomorrow's problems and issues.
As much as some people like to compare this War on Terror to the 1960s, 1970s Vietnam War, they are totally differnet when it comes to a threat on the American People. Please think about it... The Vietnam War was thousands of miles away. The War on Terror is on the streets of America. (It's just that our military and civilian anti-terrorism experts have been playing a great offensive game so far.)
Supporting Congressman Jack Murtha and his Far-Left buddies will only bring terrorism back to the streets of the United States on a regular basis.
This November vote for the security of your family.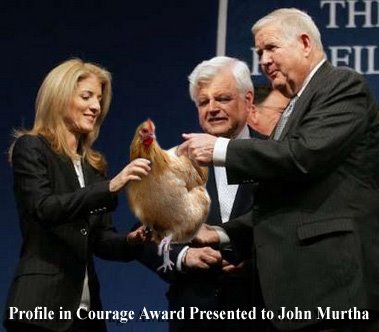 The Democrat Leaders are so desperate to pull the plug on ABC's 9-11 mini-series, yet these same Democrat Leaders loved Michael Moore's version of 9-11. During the Democrat Convention, Michael Moore sat right next to Former Democrat President Jimmy Carter. The convention even gave Michael Moore a standing ovation to honor him.
BILL CLINTON WILL GO DOWN IN WORLD HISTORY WITH ROME'S NERO...

Bill Clinton's legacy is now set in stone. (And it just sank to the muddy and slimy bottom of the Hudson River, where it belongs.)

Democrats urge ABC to withdraw 9/11 movie

Senate Democratic leader Harry Reid of Nevada denounced the five-hour television movie, set to air in two parts on Sunday and Monday nights, as "a work of fiction."

Reid and other leading Senate Democrats wrote to Robert Iger, president and CEO of ABC's corporate parent, the Walt Disney Co., urging him to "cancel this factually inaccurate and deeply misguided program."

http://reuters.myway.com/article/20060908/2006-09-08T003500Z_01_N07260695_RTRIDST_0_NEWS-SEPT11-DEMOCRATS-FILM-DC.html

POLL: Should ABC TELEVISION Have Backed Off Their Support Of Their Own 9-11 Min-Series, based on Bill Clinton's Demands?

PLEASE PRESS THE NEXT LINK TO VOTE: http://capmarine.freepolls.com/cgi-bin/polls/024/poll_center.htm

ABC tinkers with 9/11 drama

LOS ANGELES (Reuters) - Under pressure from former President Bill Clinton and the Democratic Party, ABC scrambled on Friday to make 11th-hour changes to a miniseries suggesting he was inattentive to the Islamic militant threat that led to the September 11 attacks.