Please press the below picture, if you feel (Or you are still not sure) that Congressman Jack Murtha should retire from Congress. Thirty years holding the same seat in Congress, brings too much old power and old control in a Congressionial voting district. This is one incumbent, who needs to be replaced this November. Not because of his age, but because of his views on America are stuck in the 1960s.
This is today's America... With today's and tomorrow's problems and issues facing you and your family.
As much as some people like to compare this War on Terror to the 1960s, 1970s Vietnam War, they are totally differnet when it comes to a threat on the American People. Please think about it... The Vietnam War was thousands of miles away. The War on Terror is on the streets of America. (It's just that our military and civilian anti-terrorism experts have been playing a great offensive game so far.)
Supporting Congressman Jack Murtha and his Far-Left buddies will only bring terrorism back to the streets of the United States on a regular basis.
This November vote for the security of your family.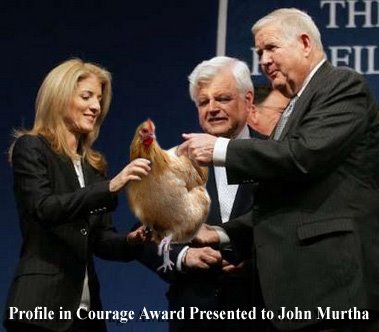 Do you remember "ABSCAM"….when a Senator and several Congressmen were convicted of taking bribes??? Well there is a new tape out of Congressman John Murtha and his encounter with the FBI….very interesting.
To read the article and watch the clip go to:
http://www.spectator.org/dsp_article.asp?art_id=10427
For more than 26 years, Congressman John P. "Jack" Murtha (D-Penn.) has not been truthful about his involvement in Abscam, court records and the complete video of his meeting with the FBI show.
Murtha has repeatedly maintained his innocence in the Abscam sting operation, even as recently as this year. However, his November 20, 1980 testimony in the trial of Congressmen Frank Thompson (D-N.J.) and John Murphy (D-N.Y.) and the FBI's complete undercover video of his January 7, 1980 meeting with its agent and informant reveal a man showcasing his political influence and apparently tempted to take a $50,000 bribe. On the tape, Murtha appears eager to arrange his own, long-term deal with the supposed representatives of Arab sheiks, and to cut out Thompson and Murphy. His testimony reveals that after his January 7 meeting, he looked into helping the sheiks enter the country, rather than contacting the FBI or the Ethics Committee, of which he was a member. Through the years, Murtha has maintained that he only met with the FBI agents to discuss investments in his district. His testimony, the video, and the cases of other congressmen snared in Abscam suggest that "investments in the district" was a common Abscam defense for those accused of bribery.
You don't know Jack (CRAP).